Joined

May 8, 2017
Messages

147
Location
So since a set of headlights and tail lights will run you about $10K now I figured I would restore my original ones with lots a sun damage on my 2004 XLR with 87K miles on it. The tops of the headlights and tail lights have all kinds of heavy hazing and pitting along with the usual wear from 86K miles and 13 years of sun. So here is what I did to restore mine.
You will need a squirt bottle with water, 2000 grit sandpaper, 2 inch masking tape, a towel to wipe off the water, a buffer with a wool pad and a soft foam pad, a buffing compound and a polish.
First I taped off all the lights so I do not scratch the paint with the sandpaper.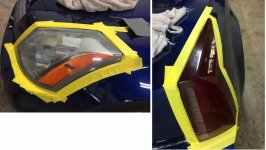 Here you can see the damage to the lights.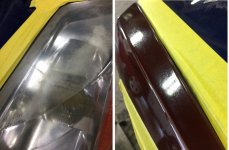 Then I wet sanded the lights with 2000 grit sandpaper, stopping and wiping the light off periodically to make sure all the damage was sanded out. Don't want to sand off more material than you have to.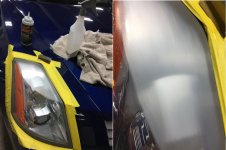 The taillights seem to be a softer material than the headlights so they sand out pretty fast. Once all of them were sanded out I sprayed them off with water and wiped them and let them dry.
Then I proceeded to buff them at about 1000rpm with the wool pad and the buffing compound to get rid of all the sanding scratches, use plenty of compound because you don't want to melt the lenses. Next I sprayed them down to clean off all the buffing compound and make sure all the scratches were gone, they look pretty nice except they have swirl marks in them from the wool pad. So next I switched to the soft foam pad and a slower speed with the polishing paste and now they look great!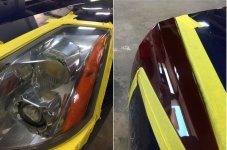 I plan to use Blue Magic headlight lens sealer on them along with waxing them frequently to try and keep them in good shape.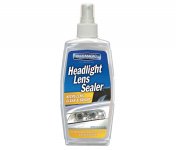 Only took about 2 hours and now I have an almost new set except for the melted turn signal lenses inside the headlights. I will figure out how to fix that next.
Last edited: