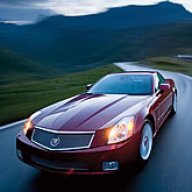 Seasoned Member
Staff member
Site Administrator
Joined

Oct 7, 2006
Messages

5,449
Location
My XLR/V(s)

Not yet!
Cadillac's silent star
Michael Bettencourt and David Chao, Special To North Shore News
Published: Friday, September 05, 2008
Cadillac's transformation from merely a flashy, chrome-dipped line of mainstream GM cars less than a decade ago to a range of unique luxury and high performance vehicles may have started with the angular CTS compact sedan.
But the American luxury brand's transformation arguably reached its zenith with the introduction of the XLR-V. Not only is it the most expensive car Cadillac ever produced, the hardtop convertible remains the most powerful car that Cadillac has ever sold.
With a starting Canadian list price of $116,560 including freight, the 'V' in its name helps explain both of those Cadillac high water marks. That single letter signifies that this car has been pumped up by the performance magicians at Cadillac to battle the likes of Mercedes-Benz's AMG and Jaguar's R-line of vehicles, to boost both the thrills and the exclusivity factor.
In the XLR-V's case, the most striking change is the 443 horsepower supercharged V-8 under the hood, up from the regular XLR's 320 h.p. normally breathing V-8, as well as a number of styling, handling and braking tweaks.
Yet there's been a noticeable lull in attention paid to the XLR-V since its introduction in 2005, in the few changes made to the car and resultant hype surrounding it. Sales of the XLR-V have been disappointing for GM, even though the car was always planned as more of an ultimate image car than a volume generator. Invoice pricing service CarCostCanada.com recently reported a $14,000 factory to dealer discount available on the XLR-V, one of the largest such deals in the business.
Perhaps the lack of buzz is intentional, at least for now, with the brand focused on the successful launch of the second generation CTS. Plus an updated 2009 XLR will reportedly be available later this year, and judging from online speculation, there appears to be at least an outside chance that the tweaked styling will eventually be enhanced in the XLR-V by a much more powerful 550+ h.p. supercharged 6.2-litre V-8 derived from the mill in the upcoming Corvette ZR-1.
This earth-shaking powerplant has been officially confirmed to be on its way in the 2009 CTS-V sedan by the end of this year, so it wouldn't seem to be much of a stretch to at some point offer it in Cadillac's priciest vehicle, which just happens to share a platform with that same Corvette sports car.
All of this future potential obscures the fact that the current XLR-V still has plenty of post modern style and sporting charm. The XLR is the clearest expression of Cadillac's Stealth-fighter inspired edgy styling motif, its sharp creased body panels, headlights, taillights and rearview mirrors contributing to a look that's more adventurous than many so-called 'concept' cars.
You'll have to have a sharp eye to spot the differences between the XLR-V's changes over a non-supercharged version. The most obvious of these are the extra spokes in the larger 10-spoke 19-inch wheels, the power bulge in the hood to give clearance to the supercharger underneath, plus the V-series trademark upper and lower polished mesh grille.
Its lightweight magnesium-aluminum roof magically folds away neatly into the trunk at the press of a button in under 30 seconds, and unlike many hardtop convertibles, the angular looks imposed by this metallic ballet actually fit in well with the XLR's overall design ethos. As usual with these tops, trunk room is much better with the top up than down, as its 328 litres of cargo room is reduced to 125 litres in al fresco mode (or 4.4 cubic feet), which is plenty if you're visiting a naturist resort for the weekend, but tiny otherwise.
The XLR-V's futuristic nature continues from the moment you go to open the door, which automatically unlatches for you after placing a hand over the flat door "handle," which is really a touch sensitive panel that uses radio antennas under the car's body to sense the car keys in an adjacent pocket or purse. Dubbed Keyless Access by GM, the car can then be started or opened, including the trunk, without ever having to dig around for keys. Handy yes, unless your significant other drives away without you or the keys.
The XLR-V comes jammed with luxurious Zingana wood and aluminum touches, including seats in a leather and suede combination, as well as gauges designed by Italian design house Bulgari, or as its Latin spelling around the speedo denotes, "Bvlgari." A heated steering wheel is new for 2008, to go with heated and cooled seats, adaptive radar-based cruise control, an OnStar system equipped with the latest turn-by-turn directions feature, or the driver can use the standard DVD-based navigation system that can also play movies when the car is in park. What it doesn't have inside is a multi-function controller knob that takes five steps and crucial attention away from the road to do what one button or knob would do, thankfully, although that seems to be the trend in most of its luxury-oriented competitors.
The XLR-V's supercharged Northstar 4.4-litre V-8 is louder and much punchier than the base XLR, which it should be with an extra 123 h.p., with a 0-96 km/h acceleration time under five seconds and an electronically limited top speed of 250 km/h. Its six-speed automatic transmission offers a sequential shift function, but its lack of more modern shift paddles behind the steering wheel speaks to an encroaching need for an update.
There's no such need with the suspension, which uses a performance-tuned version of GM's Magnetic Ride control, which is still one of the best ways in the industry to provide stiff damping around hard-charging corners, but without the teeth-jarring rough ride of a firm sports suspension. Tiny magnetized particles in the electronically controlled shocks respond to four wheel-to-body sensors in about a millisecond, providing more or less damping (i.e. stiffness/control) much quicker than the mechanical valves in traditional shocks. Ferrari has adopted a similar system in its $300,000 599GTB Fiorano V-12 sports car, not a bad counterpart to have in this exclusive neighbourhood.
It's technologies such as this that make it surprising that Cadillac's top performing machine has become a silent star in the lineup. Sure, its futuristic looks may be more edgy than sexy to some, or perhaps there are savvy potential buyers thinking that even more is soon to come. But even now, it's hard not to admire the XLR-V for its truly stealthy appeal.
SPECIFICATIONS
2008 Cadillac XLR-V
Type:
Luxury performance two-seat hardtop convertible
Base price:
$115,140 MSRP
Engine:
4.4-litre DOHC V-8
Transmission:
six-speed automatic with sequential capability
Drive:
Rear-wheel drive
Horsepower/torque:
443 h.p./414 foot-pounds
Fuel economy (litres/100 km):
14.1 city/8.1 highway; premium required
THUMBS-UP
This post-modern shape still stands out, while its advanced suspension employs the most advanced technology in the world to balance handling and comfort.
THUMBS-DOWN
Power nor refinement is not as high for the XLR-V as its competitors. Not as much "brand recognition" as other super high performance cars.
THE BOTTOM LINE
Impressive car on its own, just a fair bit less special -- and much less expensive -- than most of its competitors.
COMPETITORS
BMW M6 CABRIO
A much more powerful 500 h.p. engine, in a physically much bigger car, the BMW M6 Cab is a much more hard-edged car, especially with all ten of its naturally aspirated cylinders screaming near its 8,000 r.p.m. red line. On the other hand, that 5.0-litre V-10 puts out only 400 h.p. unless you manually request all 500, so it's not as ahead on power as it looks on paper.
The list price is more than $23,000 more than the XLR-V, with two real back seats and a roomy trunk, thanks to the folding soft top instead of the hardtop in the Benz SL 55 and XLR-V.
JAGUAR XKR CONVERTIBLE
Probably the closest competitor to the XLR-V, the XKR contrasts the XLR-V personality by using classic Jaguar lines, and a touch of old-world style inside as well, despite its thoroughly modern features and driving character.
The Jag's supercharged 420 h.p. V-8 is also close to the Caddy's in output and configuration, but the XKR has a small back seat and larger trunk that makes it a slightly more practical choice, if that means anything in this class. This is also another soft top, which just doesn't seem befitting a car this expensive, now that 3 Series' and Volkswagen convertibles are now coming with retractable hard tops.
MERCEDES-BENZ SL 55 AMG
At an MSRP of just over $177,000, the SL 55 seems to be the market target for the XLR-V, with a much lower price. Unfortunately for Cadillac, it also undercuts the Benz in power, refinement, and overall sophistication, with the SL 55's 510 h.p. 5.5-litre supercharged V-8 providing instantaneous access to hyper drive.
The SL 55 is also a two-seater like the XLR-V, but Mercedes-Benz has a touch more experience with hardtop convertibles, and it shows. The car feels like a much more solid piece, top up or down, with quieter operation when opening or closing. On the other hand, even the base SL 550 is more than the list price of an XLR-V, which is much more comfort focused, and down on power at 382 h.p. in this class.