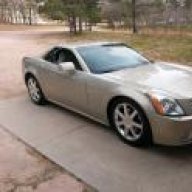 Joined

Sep 2, 2013
Messages

563
Location
My XLR/V(s)

2006 Gold Mist XLR & 79' Eldorado Convert
My wife informed me earlier this week that this coming Saturday she's having her girl friends here to the house.
'A Hen Party.' Oh Yea. They will 'visit' together here for awhile (coffee and rolls, etc.).
Very loud
. Then they go out and shop together for awhile. Have lunch somewhere. Usually for 2 to 3 hrs. as they
talk, lots
. Then they will come back to the house and visit some more, and eventually (?) the stragglers will leave. --- So she kind of got in a stance, sitting down, shoulders squared, facing me, and said words to the effect of, "You have a problem with any of this?" (I had said nothing! ????) Me: "It's your house too. So, no, no problem". Her, "So you will be nice to my friends?" Me: "Won't be necessary, as under the circumstances I will now be leaving for the day. Will take The XLR and 'T.J.' (our dog) and we will go in The XLR to a car show somewhere. T.J. will ride shotgun with his Hat and Doggles on. I'll take food and water for him, and we will eat out somewhere that evening. When the last one leaves the house, call me, and I'll come home. Since I won't be here, there won't be any interaction by me with your girl friends that you need to be concerned about, right? So makes you happy, and me happy, right?" ---
This made her angry. Huh? Why????

Her: "So you won't be here! That stinks!" Me: "No it doesn't! Look, I have no objection to you making your plans. Therefore you shouldn't have any objection to me making mine. Right?" --- She stomped off with no response??????? ---
Am I going to the car show? Yes! Will I be here to be forced to interact with any of these women in any way? No! Does this make me happy? Yes
!
--- What always amazes me when this 'Event' occurs, is I'll ask her later what they talked about at lunch for 3 hours, or any other time during the day? This with a gazillion words having been spoken, verbal chaos. She "can't remember."

Is this something 'I' look forward to? No! Yet it is an 'annual once a year event'. Don't ask! No one knows why this occurs? I have NEVER gotten any kind of rational explanation as to what is accomplished? In fact prior to being 'informed' of this event, I had stuff I wanted to get done at home Saturday. No longer! On day 'kaput' doing other stuff. Oh well! Go figure?