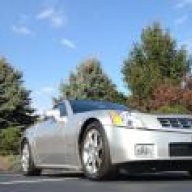 Joined

Jun 17, 2011
Messages

2,760
Location
My XLR/V(s)

2005 Light Platinium Silver XLR
Hi all!
I'm Friends John Monzo and he contacted me about letting our XLR Owners know of this September trip event they are setting up! If anyone is interested, here's the information he send me!
Dear Allante XLR Owners,
The Allante XLR Nationals/ Vacation will be ready to book by Thursday, 4,4,19. By now you all should be aware we will be holding it in Portland Maine. The host hotel will be the Clarion Portland Maine.
Access Denied
which is the only hotel that is offering free parking for our babies. Because Portland won the Foodie capitol of the country, the hotels skyrocketed to over 300.00 a night, but I found and negotiated them to a nice normal rate. Now please keep in mind you will have only 30 day before the event to book a get that rate and also you need to know you can cancel up until 6pm day of the event before your charge. So knowing this there should be no reason you should not pick up the phone and call the hotel before you forget. But remember 3 things, 1, the number 207-774-5611. 2, Tell them you with the Cadillac Allante club and 3, Do this starting Thursday April 4, 2019
Here is the itinerary of the event. On September 4th, Wednesday morning we will drive to the Cod Cove Inn
Midcoast Maine Hotel - Boothbay Lodging | Cod Cove Inn
located in Edgecomd Me. Stay overnight and after breakfast, Owners will have their option to drive to 1, Cadillac Mountain
Cadillac Mountain Acadia National Park Maine
and or the Owls transportation museum
Visit | Owls Head Transportation Museum
and real close to there is a wonderful toy museum.
Fawcett
This one I have to go too. Once finish on the way back, we have to stop at the famous Moody's diner, even if it's for a cup of coffee. You got it see this.
Then it's all systems go to the Clarion Hotel. Dinner Thursday evening will be on our own. Possibly in the hotel where there is a bar and restaurant. Friday morning, we will board a hop on hop off bus to tour the city of Portland, lunch of your choice. Then for dinner, we will dine at ___. There are so many places we need to pick a nice one.
Saturday morning after breakfast, it's CAR SHOW TIME. You will be instructed as to where we will line up to show off our babies. Each of you will receive a voting sheet to pick your favorite ones and still have time to enjoy your day at the location picked. Once again, lunch is on our own.
Saturday evening, in the hotel banquet room, we will have our sit down dinner and our awards presentation throughout the night.
After Breakfast and our long loving goodbyes till next year, We all will start leaving for home now for those of you that are driving south and wish to keep it going may I suggest a stop at Mohican Sun casino for a few hours or even an overnight stay. It's almost the half was point.
I can almost guarantee I will list a few other places to see, do and eat. Once owners see this itinerary, they will email me to tell me the best places to take you, and we welcome this. I will email you the registration shortly, but the most important is to book the room before the rate goes HIGH
I really can't wait for this year's Event. Last year's event in Michigan my hands were tied and the year before in Savannah was outstanding with 57 Allantes, but I was sick as a dog and it's all a blur to me.
Ok before signing off I need to tell you were going to do wildwood this spring. Please get in touch with me or Mike Astringer. Mike would love to receive the group participation award.
To participate, 2 thing you need to do,
1, st, Get in touch with Mike 609-280-1367 or me 609-634-6518
2nd, sign up with the wildwood club
https://www.eventbrite.com/e/2019-spring-boardwalk-classic-car-show-tickets-50275320838
We have some Allanté for sale at the shop, 87, 91, 93 let me know….call me
Thank you, Johnny
Ps, Any questions call or email….. if you serious about any Allanté I have for sale, call me.
Sent from my iPhone using Tapatalk