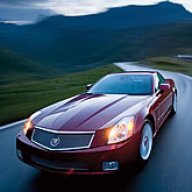 Seasoned Member
Staff member
Site Administrator
Joined

Oct 7, 2006
Messages

5,449
Location
My XLR/V(s)

Not yet!
A Cadillac that pumps out power
High performance, price for the XLR-V sports car
By Royal Ford, Boston Globe |
September 1, 2007
Can any Cadillac, especially a sports car sprung from a long line of big steel sedans, be worth $100,000?
That's the question we hope to answer by flogging today's test car, the 2007 Cadillac XLR-V. Before venomous mail arrives asking why I'm reviewing a $100,000 car that few people could ever afford, I'll cite the guy who said he climbed mountains because they are there. Besides, enthusiasm for automobiles runs the gamut from cheap and practical to modestly elegant to high performance to pure fantasy.
This Cadillac is meant to be a high-performance sports car and the company claims it will go from 0-60 miles per hour in under 5 seconds. That's mighty quick for a car that weighs almost two tons.
It helps that the XLR-V is powered by a supercharged, 4.4-liter, V-8 Northstar engine that hammers out 443 horsepower and enough torque - 414 lb.-ft. - to push a snowplow. But all that power translates into only 17.1 miles per gallon in Globe testing, plus a $1,700 gas guzzler tax.
The engine's power is transmitted to the rear wheels via a six-speed automatic transmission with manumatic option. The six-speed, a step up for General Motors Corp., is whisper smooth in full automatic mode. The manual option, however, seemed a bit hesitant in responding to commands, especially when the engine neared red line.
Still, this is a high-performance sports car, although it could be described as being to the Mazda Miata what a Gulfstream jet is to a Piper Cub: Both are fun, but they sure are different.
On the road, the Cadillac feels, well, big. And Bodacious. The chrome-tipped quad exhausts generate a cabin-shivering rumble when the gas pedal is stomped.
Magnetic Ride Control - iron filings in liquid that align themselves in the shocks to soften or stiffen the ride, depending on how the car is being driven - features settings for regular driving and hard travel. In normal mode, the ride is soft, even a bit spongy. Slip into sport mode, however, and the ride stiffens as you push the car hard through corners, down entrance ramps, and out into the passing lane. The car sits firm and flat. The only complaint is that the steering is not as communicative as it should be in a car that leaps ahead the way this one does. You must steer more on faith than feel.
Outside, the XLR-V looks similar to the XLR, which costs $23,000 less. V-badging and a sporty mesh grille are the telltale giveaways, along with a prominent bump in the hood that makes way for the supercharger.
The exterior's sharp lines continue inside, even amid elegant touches. I'm not sure they should. Sure, there is double-stitched leather on the seats, dash, door panels, and even over the dual roll-over protection hoops. Zingana wood, grayish in tone, is a matter of taste (I'd prefer a darker, richer tone), and aluminum accents add to the sporty feel.
Yet, it all seems too squared off. Maybe it's the combination of a high hipline which makes it difficult to rest an elbow on the window sill, or the bulky, rectangular center console/transmission tunnel. A lower, more rounded cockpit feel would better serve the car's occupants and also provide a nice contrast to the exterior design.
Trunk space is low and deep with the retractable hardtop up, and virtually nonexistent with the roof lowered (think two small, soft bags for travel).
Standard fare abounds - as it should on a car this expensive - and includes heated and cooled seats with 8-way power adjustments, stability, and traction control, a 6-disc Bose sound system, a navigation system, side impact airbags, rear park assist, and 19-inch aluminum wheels.
Because the XLR-V is built on basically the same platform as the more-fun-to-drive $65,000 Corvette Z06, providing a definitive answer to the question of whether it's really worth $100,000 is difficult.
Depends on your choice of mountains.
Royal Ford can be reached at
ford@globe.com