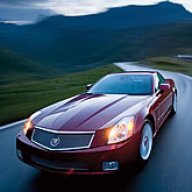 Seasoned Member
Staff member
Site Administrator
Joined

Oct 7, 2006
Messages

5,449
Location
My XLR/V(s)

Not yet!
GM vehicle death list is complicated
Rick Kranz
Automotive News
December 5, 2008 - 2:22 pm ET
DETROIT -- General Motors says it will eliminate eight nameplates by 2012.
But determining which vehicles will go isn't as simple as finding eight sales duds in GM's lineups. GM will kill more than eight vehicles -- while adding several others -- by 2012.
GM did not release a list of nameplates to be dropped. But potential moves include dropping GM's compact pickups, the Chevrolet Colorado and GMC Canyon; two Cadillacs and several others. The Chevrolet TrailBlazer and Uplander already were on the hit list.
GM hinted at its plans in documents filed with Congress earlier this week. The automaker said that by 2012 it will offer 29 cars and crossovers, and 11 trucks, a total of 40 nameplates. Today, GM offers 48 nameplates -- 31 cars and crossovers, and 17 trucks.
GM's bailout plan says core brands are Buick, Cadillac, Chevrolet and GMC. Pontiac is a survivor, but just barely. Pontiac becomes a niche player with maybe two nameplates.
Hit list
So what nameplates face extinction?
GM already has said it is exploring the sale of Saab and Hummer. In addition, it is reviewing the fate of Saturn. The brands may be sold. If not, the brands are likely history, and so are their models. Saab has three nameplates, Hummer two and Saturn has five -- that's 10 nameplates gone.
Cadillac likely has at least two nameplates on the extinction list, the DTS sedan and two-seat XLR. U.S. sales of the $85,000-plus XLR totaled a measly 1,151 for the 11 months through November.
The DTS and Buick Lucerne sedan share a front-drive platform, slated for extinction by 2012. But Buick could receive a full-sized, rear-drive sedan from GM's Holden subsidiary in Australia, which assembles the Park Avenue for China. There have been hints that GM may add a smaller sedan for Buick.
Slow sales
Other likely candidates to chop include the Chevrolet Colorado and GMC Canyon pickups. Through November, combined Colorado/Canyon U.S. sales totaled 63,430 units. GM already plans to drop Chevrolet's TrailBlazer mid-sized SUV and Uplander minivan.
Pontiac will be a "specialty/niche brand with reduced product offerings," according to the document GM submitted to Congress. Pontiac's biggest-volume nameplate, the mass-market G6, would appear to be on the chopping block. Ditto for the two-seat Pontiac Solstice, a Saturn Sky clone. Likely candidates for survival include the G8 rear-wheel-drive car and possibly the Vibe compact.
But as GM chops nameplates, other nameplates will be introduced. Among those already announced by GM that will debut by 2012 are the Chevrolet Camaro, Cruze and Volt. The Cruze will replace the Cobalt, for example.
GM will introduce a yet-to-be named mid-sized crossover for GMC. Cadillac also has penciled in a rear-drive sedan that is smaller than the CTS.