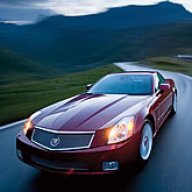 Seasoned Member
Staff member
Site Administrator
Joined

Oct 7, 2006
Messages

5,442
Location
My XLR/V(s)

Not yet!
Cadillac XLR
Waves Good-bye
Casey Williams, www.car-data.com
Monday, February 16, 2009
My first review was about the 1993 Cadillac Allante, which I drove as an undergrad on the factory test track in Detroit. Based on the front-drive Seville/Eldorado platform, it was never going to be much more than a shortened luxury roadster. Yet, its Pininfarina-designed Italian bodywork was well-done and influenced most of the '90s Cadillacs (evident in the STS). During the car's last year, Cadillac installed its new 32-valve Northstar V8 and made it the sportster it always should have been. By then, it was too late and production ceased by summer.
Cadillac learned a few things from the Allante adventure. Putting chassis on 747s, flying them to Italy for the installation of their bodies, and returning the whole affair to Detroit for final assembly was an outrageously costly way to build an automobile. Sheet metal stamping machines work just fine in Detroit and can be configured for almost any shape. The front-drive architecture was never designed to compete with the Mercedes SL or Jaguar XK. Expensive and beautiful as it was, the Allante was never up to the challenge and didn't live up to its nearly-$70,000 price tag. Which is why the XLR held so much promise.
Debuting as the Evoq concept in 1999, the razor-edged Cadillac roadster shocked showgoers. From anywhere on Earth, you would have known it was a Cadillac, but it looked nothing like any other. Stacked headlamps, eggcrate grille, V-shaped decklid, and thin vertical taillamps hit all the styling hot spots, combining next-century excitement with historic elements. It is the car that inspired the CTS, STS, DTS, Escalade, and all of the other great Cadillacs that followed.
When GM became serious about actually producing the XLR, it knew exactly where to start: Bowling Green, KY. Chevrolet was already building a two-seat performance roadster, second to none. Designers and engineers began with the Corvette's integral frame, modified the electronic suspension system for a softer ride, replaced the pushrod V8 with a Northstar, and enveloped the whole thing in edgy bodywork, luxurious interior, and with a folding hardtop. This was no Allante. The XLR had the foundation to kick Mercedes into the weeds.
What GM found again is that Mercedes buyers are really loyal and most people open to purchasing a GM model were likely to choose the less-expensive and more-capable Corvette. So, GM announced that 2009 would be the final year for its fabulous folding-hard topped roadster.
New front and rear facias, fender vents, and three additional paint colors (Black Cherry, Gray Flannel, and Radiant Silver) distinguish the last run. Platinum editions wear new 18" wheels. XLR-V models come with Alcantara™ (suede) headliners. Leather-wrapped upper dash panels, heated steering wheel, and Bluetooth connectivity add class and convenience.
Ample acceleration comes from either a 320-horsepower 4.6-litre 32-valve Northstar V8 or 443-horsepower supercharged 4.4-litre V8 (XLR-V only). Both engines are routed to the rear wheels through five-speed automatic transmissions. A revised version of Cadillac's Magnetic Ride Control system smoothes out bumps while firming up for spirited curve carving. Especially when pushed to the limits, the XLR shows its Corvette heritage. It is balanced, controlled, and fast as a demon chasing souls. Hearing the supercharger whine when under heavy foot is one of life's great joys.
There's no doubt that Cadillac, and Corvette's engineers, build one of the world's best performance cars. It will be a classic for future generations, or those lucky enough to buy one in its final year. However, what the XLR did for Cadillac's image, performance, and design will be its legacy. While the Allante was just another Italian beauty, the XLR changed Cadillac's entire game. It is a great car, showing the way to all that Cadillac became.