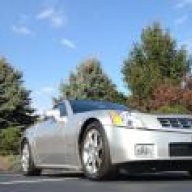 Joined

Jun 17, 2011
Messages

2,760
Location
My XLR/V(s)

2005 Light Platinium Silver XLR
Nice pictures of your XLRs Friends and Kudos to all who added awesome pictures on here, it looks almost like mini BG Gathering and we plan to make it at this event in the future and add it to our calendar of XLR events when Wendy has more vacation time her new at her job.
As for us this weekend we tripped down to Chesapeake City Maryland. It's a small quaint little town where the Susquehanna River dumps into the upper start of the Chesapeake Bay. Although plans was to have 2 XLR's there by meeting up Dan F on the forum here he contact me on Friday afternoon and said he got call into his 12 hr. night Shift job! Although Dan & Janice didn't get his car in the show they get to stop early afternoon Saturday and we did get to meet these nice people! They too have an 05 Light Platinum Silver almost the same as ours!
Got a email last night from Chesapeake City Club they pulled in 635 show vehicles total!
Here's a few of the best pics! The big bride that in the one picture comes in over the tow we was actually almost parked under it!
Hope you enjoy
Sent from my iPhone using Tapatalk
Dan & Wendy
"05 GRAND DADDY"