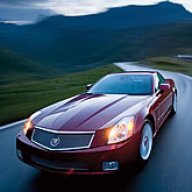 Seasoned Member
Staff member
Site Administrator
Joined

Oct 7, 2006
Messages

5,442
Location
My XLR/V(s)

Not yet!
Car thief misjudges power of old Corvette
Sunday, November 02, 2008
By Tom Birdsong, Pittsburgh Post-Gazette
A Penn Hills man may not have realized how hot the red Corvette that he had just stolen really was.
Joseph Richard Matassa, 22, crashed the car into a retaining wall in Plum early yesterday and died at the scene, according to Plum police.
"It's a shame that he died for a car. I feel bad about that,'' said Marjorie Iezzi, of Plum, whose husband, Anthony, owned the car that was stolen. He restores antique automobiles as a hobby.
"It's a powerful car with a stick shift, and I believe he must have come around a bend, punched it and lost control,'' said Mrs. Iezzi.
Police said Mr. Matassa drove the car into a retaining wall at Universal Road and Franklin Drive at 12:51 a.m. yesterday, about seven miles from where it was stolen. Universal Road between Cedarwood Drive and Deborah Jane Drive had to be closed for a couple of hours.
Mrs. Iezzi said her husband stored the Corvette in a detached garage about 200 feet from Beech Road and behind their home.
They didn't realize it had been stolen until police knocked on their door at 3:30 a.m. and asked whether they owned a 1969 Corvette with plates identifying it as an antique auto.
The Iezzis then went outside and discovered that the thief had driven the car through their yard and through a fence onto Beech Road.
Mrs. Iezzi said neither she nor her husband knew Mr. Matassa.
"How he knew the Corvette was there, we don't know,'' said Plum Police Chief Frank Monaco. "The owner wasn't even aware it was stolen.''
Mrs. Iezzi said her husband painstakingly restored the Corvette, which he had owned for eight years, and only drove it a few times a year. She said she hopes insurance will cover the loss.
Mr. Matassa's parents live in Verona but couldn't be reached for comment yesterday.
State court records indicate that Mr. Matassa faced trial Nov. 13 for driving under the influence and that he had been charged in October with misdemeanor counts of loitering and prowling at night and disorderly conduct.
Mrs. Iezzi said the incident unnerved her in more ways than one.
"It was scary enough that we got a knock on the door at 3:30,'' she said. "I can't imagine what his people felt like when they got that knock on their door. We lost just a car. They lost a son.''
Tom Birdsong can be reached at
tbirdsong@post-gazette.com
or 412-263-3068.
First published on November 2, 2008 at 12:00 am