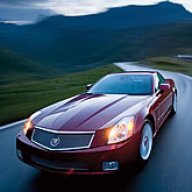 Seasoned Member
Staff member
Site Administrator
Joined

Oct 7, 2006
Messages

5,451
Location
My XLR/V(s)

Not yet!
Chevy Volt's Production Moves Ahead; GM Focus On Battery
November 20, 2008: 07:34 PM EST
Dow Jones News
General Motors (GM), shaken to the core by a consumer credit crisis and plunging sales of conventional vehicles, is forging ahead with development of the Chevrolet Volt and plans to place the contract for the electric car's battery by year-end.
Battery production, viewed by some investors as the piece of the puzzle needed to keep GM from missing its November 2010 target launch date, is on schedule and going smoothly, said GM spokesman Rob Peterson.
There has been plenty of speculation in the industry that sharply lower auto sales and mounting losses at GM could force the company to scale back spending on product development.
But the Volt would be spared any such cost-cutting, Petersen said, given that it's the standard bearer for GM's much-anticipated expansion into the alternative vehicle market. The need to produce an electric car was made all the more urgent by this past summer's wild price spike at the gas pump and mounting pressure on Detroit to help wean the nation from petroleum.
"As far as anything that relates to the Volt, the Volt is full speed ahead," Peterson said. "It remains our top-priority program."
Peterson said there has been no change in GM's plan to have the Volt on dealers' lots by late 2010. The next big step toward getting there will be to pick a supplier for the car's 16-kilowatt-hour battery pack. According to the design specs, the Volt's battery pack will carry it 40 miles on an overnight recharge and up to 400 miles when it gets a boost from the Volt's on-board combustion engine.
Competition for the contract has been narrowed down to two finalists: Detroit- based Compact Power, Inc., a division of LG Chem Ltd., or A123 Systems working with Continental Automotive Systems' battery pack integration, Peterson said.
The award will be made before the end of the year. Meanwhile, GM continues to test batteries from both suppliers, he said.
Peterson also said that regardless of who wins the contract, GM will continue to keep a close eye on other battery manufacturers, mindful that the technology is evolving rapidly and will be a key long-term investment for the company.
"We continue to test a wide range of lithium ion cells from companies that aren't even automotive companies because we want to learn, and we want to stay at the top of this learning curve because we really see it as being a competitive advantage in the future," Peterson said.
Peterson said coming up with a reliable, affordable battery has been one of the biggest technical hurdles facing the Volt project team.
"You have a very short development window for developing a new technology, and it has to be done in a way in which it can be easily integrated back into a vehicle," he said.
Mohamed Alamgir, director of research at Compact Power, said the main challenge in developing a Volt battery is to come up with a lithium-ion pack that's much bigger and has a much longer life than batteries found in consumer electronics, which typically deteriorate after just a year or two.
"Automotive demand is very different," Alamgir said. "The vehicle companies are demanding batteries that they can warranty over 10 years. ... It's like almost 7,000 laptop batteries connected to make one of the [Volt] battery packs."
Automotive battery technology has come a long way over the past decade. GM's EV1, developed in the late 1990s and perhaps best-known as the subject of the documentary "Who Killed the Electric Car?", used much larger lead-acid and nickel-metal hydride units, Peterson said, even though both batteries have the same capacity.
"The EV1 battery was roughly 1,200 lbs.," Peterson said. "The Volt pack is about one-third that size and one-third that mass."
The EV1 had a range of about 120 miles, running solely on battery power, and took six to eight hours to recharge while plugged into a 220-volt outlet.
In contrast, the Volt's battery has a 40-mile range after a three-hour charge on a 220-volt outlet or eight to nine hours when plugged into a 110-volt socket. A full charge for a Volt, though, is only eight kilowatt-hours because the battery isn't intended to fall below 50% charge - a feature designed to improve longevity.
-Nathan Becker; 415-439-6400;
AskNewswires@dowjones.com