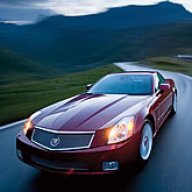 Seasoned Member
Staff member
Site Administrator
Joined

Oct 7, 2006
Messages

5,451
Location
My XLR/V(s)

Not yet!
Corvette plant's new manager begins journey

By AMEERAH CETAWAYO, The Daily News,
acetawayo@bgdailynews.com
Sunday, January 13, 2008 12:11 AM CST
The new general manager of the General Motors Bowling Green Assembly Plant finished his first week on the job Friday.
Paul Graham takes over the more the facility, which makes the Chevrolet Corvette and Cadillac XLR, from Wil Cooksey, who will retire in March.
Graham said the week has been demanding but enjoyable, mostly spent meeting with as many employees as possible in various departments. Graham said Bowling Green's plant is unique in that it boasts a strong link to customers, mostly due to the National Corvette Museum that's just across the street.
"Not every plant has the customer enthusiasm that we have here," Graham said.
He said 2008 will be about building upon what Cooksey has instilled at the plant: keeping the plant competitive in its segment and continuing to give customers value.
"A lot of what I want to do is understand the plant and understand his perspective," Graham said. "I'm trying to learn as much from him as possible."
Detroit-based GM still stands as the world's largest automaker and boasts 280,000 employees worldwide. A recent corporate audit that gauged employees' level of understanding of GM's operating philosophy showed 83 percent proficiency - better than all of GM's other plants in North America, Cooksey said last year.
In the upcoming months, Graham said, he plans to frequent the Corvette and Cadillac XLR production lines, learning the ropes as the automotive industry continues to change and evolve.
"We've got to work together to stay viable," Graham said.
Graham was assistant plant manager of the Fairfax Assembly plant in Alabama prior to coming to Bowling Green; prior to that, Graham was appointed assistant plant manager of the GM Oklahoma City facility in 2005. He describes himself as having a hands-on style that's heavy on communication - a skill that should help him manage the more than 1,000 employees at the plant.
Graham's GM resume began in 1980 as a college student intern at GM Truck and Bus in Flint, Mich., according to Bowling Green Assembly Plant spokeswoman Andrea Hales. In 1986, he became an associate manufacturing engineer at the plant, then moved on to become a supervisor of production in 1987 at GM's Ft. Wayne Assembly plant in Indiana.
Graham held several positions at the facility before being promoted to senior manufacturing project engineer in GM's Truck and Bus Division in Pontiac, Mich., in 1989.
In 1992, Graham moved on to GM Baltimore Assembly in Maryland to assume an assistant superintendent of Maintenance position, and over the years held positions of increasing responsibility at the plant before returning to Ft. Wayne Assembly as an area manager of the Body Shop in 1995.
In 1997, Graham expatriated to Guanajuato, Mexico, to assume a platform program manager position with GM of Mexico. In 2000, he returned to the United States and was appointed assistant plant manager of the GM Shreveport Assembly plant in Louisiana.
Graham holds a bachelor's degree in mechanical engineering from Kettering University and a master's degree in project management from Johns Hopkins University.