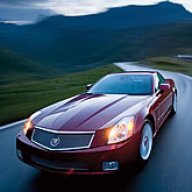 Seasoned Member
Staff member
Site Administrator
Joined

Oct 7, 2006
Messages

5,449
Location
My XLR/V(s)

Not yet!
Deputies using Corvette to catch speeders
By Michael Biesecker - Staff Writer
Published: Tue, Jul. 21, 2009 06:08PM

RALEIGH, NC
-- If you plan to outrun the law in Wake County, you'd better have a very, very fast car.
Or maybe a rocket.
Wake deputies have been spotted using a black Chevy Corvette Z06 to pull over speeders on Interstate 40. Among the fastest production cars in the world, the Z06 has a base sticker price of $74,875 and a growling V8 racing engine that turns out 505 horsepower.
The car has a top track speed of 198 miles per hour, according to Chevrolet.
Though the car has set tongues wagging among Triangle sports-car enthusiasts, Sheriff Donnie Harrison declined to talk to The New & Observer about the Corvette Monday or Tuesday. He did show the car to crews from local television stations.
Full Story:
http://www.newsobserver.com/167/story/1616313.html