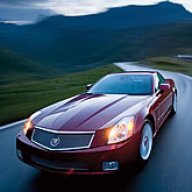 Seasoned Member
Staff member
Site Administrator
Joined

Oct 7, 2006
Messages

5,442
Location
My XLR/V(s)

Not yet!
Feds roll out vehicle database

So far, 27 states are enrolled

Harry Stoffer
Automotive News
January 29, 2009 - 10:54 am ET
UPDATED: 1/29/09 3:59 p.m. EST

WASHINGTON -- The U.S. Justice Department today announced the launch of an electronic database that will help auto dealers and consumers check vehicle histories.

The database, which has been in the works for more than 16 years, goes live at 9 a.m. EST on Friday, but it remains incomplete.

Last year, the National Automobile Dealers Association, automakers and consumer groups joined to ask the government to complete rules to carry out the database. The consumer groups also sued in federal court. A judge directed the government to undertake the database by Jan. 30.

The goal of the database is to reduce title-washing -- the practice of taking a rebuilt or repaired wreck or flood car from one state and giving it a clean title in a different state, so that an unsuspecting buyer pays more than the vehicle is worth.

A 1992 law mandated a database that links state motor vehicle bureaus, but it was never enforced.

The system won't be free. A fee will be paid to online portal providers, which were not named today. A department official said the free market will determine the fee amounts.

Officials said 27 states are participating at some level now and 10 more are gearing up. All states must be in the system by Jan. 1, 2010. Insurers and salvage yards are supposed to begin sending data by March 31 of this year.

Despite the gaps, the Justice Department says the system has 73 percent of the vehicle titles in it.

Public Citizen, one of the consumer groups that sued, said today it will ask Attorney General Eric Holder to take action to get better compliance by all states.

Ivette Rivera, director of legislative affairs for NADA, said the Justice Department did a "great job," within the limits of the 1992 law, to get the database up and running.

She said improvements are needed. One is the ability to check batches of Vehicle Identification Numbers. Initially, dealers and others only will be able to check them one at a time.

Also, the law requires only monthly data collections. So timeliness is a problem, Rivera said.

NADA continues to seek a law that would require insurers to disclose immediately every vehicle they declare a total loss, for any reason.