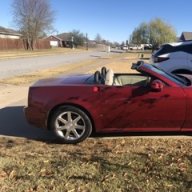 Joined

Nov 23, 2020
Messages

24
Location
My XLR/V(s)

2006 XLR Base
I have followed (mostly) the instructions found in the XLR Aftermarket Headunit Installation.pdf file posted here:
Log In or Sign Up to View
. I did get the radio to power up, but no sound was coming out. While I didn't cut and tie the like-colored wires on the 20 pin connector, I did (try) to wire in jumpers (which I got from other install thread, such as those found in this site. The reason I didn't cut and splice the 20 pin connector was because I was at a friends house and didn't want to get stuck. Also, I did use the SWC plug from the GMOS-06 to plug into the Axxess AXSWC controller (and maybe that may be one point of contention). Since I never got sound, I never checked for the Steering Wheel Controls.
Parts list purchased for this job:
Pioneer DMH-2600NEX
Axxess AXSWC
Axxess Technologies GMOS-06 GM Databus Specialty Harness
70-2054 Wiring Kit (though that looks like a last ditch effort to hardwire the speakers directly)
SiriusXM SXV300v1 Connect Vehicle Tuner Kit for Satellite Radio (never plugged this in)
Blaupunkt Wi-Fi Car Rearview Camera (BPDW8913WR) (never made it that far)
I am wondering if I have lost my mechanical/electrical skills, and need to pay someone to do this? Looking for suggestions, beyond take it to a pro. Thanks in advance!
BTW...I called a local install shop and they said that they would need to troubleshoot and get the existing system working before making any changes, so I have booked an appointment with my local Cadillac shop for troubleshooting and diagnosis. The stereo replacement was initiated because the top got caught on a set of jumper cable that had slid forward and got bound up when I was lowering. The radio started squealing, popping and thumping and then quit.