Joined

Feb 6, 2018
Messages

42
Location
My XLR/V(s)

2005 Black raven / Shale
A Little Roadtrip for Parts
Well it's been a while since I last posted progress on the car but I've had a few other projects going on besides the XLR. I am quite a bit farther than I've posted so hopefully I'll catch up soon.
Anyway, I found a fender and luckily it was the same color as car but it required a good roadtrip to pick it up as they would not ship it. Made the trip into a short visit with relatives and was going right by Beard Bros. on the way so I stopped in to say hi and check out his shop and XLR. His was the first one I've actually looked at in person besides mine and it was great to see another one to check out a few things I needed to know to put mine back together.
His shop is in a cool old Chevrolet dealership and was great to talk with him-----thanks Jim!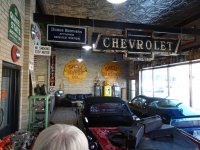 So just had to see what the good fender looked like on the car!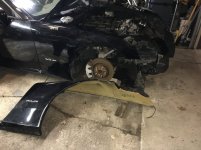 I had to do a little repair on front of rocker panel where fender crushed it at the mounting point and also front of inner fender that got damaged by collision. I didn't think it was bad enough to change out whole inner fender as that didn't look like a fun job anyway so I tried a little fiberglass repair. Haven't done that in years but it turned out pretty descent.
Also had to straighten very edge of bumper reinforcement and replace the aluminum extension.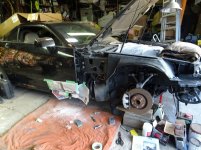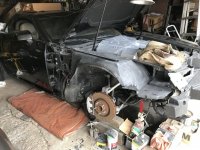 Starting to look like something now!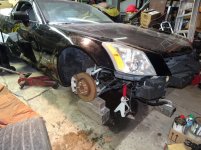 Kevin