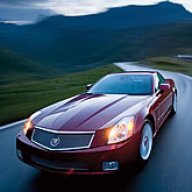 Seasoned Member
Staff member
Site Administrator
Joined

Oct 7, 2006
Messages

5,449
Location
My XLR/V(s)

Not yet!
FOR RELEASE: 2007-12-18
GM Announces Price Increases to Partially Recover Rising Commodity Costs
Increases Range From $0-1,500 On Select Models, Averaging About 1.5 Percent
DETROIT – GM today announced a price adjustment on most of its 2008 model year vehicles to partially recover increasing steel and commodity costs. The price increases, averaging about 1.5 percent, are effective with vehicles invoiced to dealers on and after December 19, 2007.
"This targeted price increase is designed to partially recover ever-increasing commodity costs. While most cars and trucks in our portfolio will go up between 100 to 500 dollars, in hotly contested segments, many vehicles such as the Saturn Aura four-cylinder and the all-new Malibu LS will have no increase," said Mark LaNeve, GM North America vice president, Vehicle Sales, Service and Marketing. "With our award-winning designs and the best warranty coverage of any full-line manufacturer, our 2008 vehicles remain the best value in the market place."
Price increases will range from $0 on the 2008 Chevrolet Malibu LS to $1,500 on the Cadillac XLR luxury sports coupe. Importantly, this price increase will not affect vehicles already in dealer inventory, which continue to be available to customers until the end of the year during the GM Red Tag Event.
General Motors Corp. (NYSE: GM), the world's largest automaker, has been the annual global industry sales leader for 76 years. Founded in 1908, GM today employs about 280,000 people around the world. With global headquarters in Detroit, GM manufactures its cars and trucks in 35 countries. In 2006, nearly 9.1 million GM cars and trucks were sold globally under the following brands: Buick, Cadillac, Chevrolet, GMC, GM Daewoo, Holden, HUMMER, Opel, Pontiac, Saab, Saturn, Vauxhall and Wuling. GM's OnStar subsidiary is the industry leader in vehicle safety, security and information services. More information on GM can be found at
www.gm.com
.
Note: GM sales and production results are available on GM Media OnLine at
http://media.gm.com/us/gm/en
by clicking on News, then Sales/Production. In this press release and related comments by General Motors management, we use words like "expect," "anticipate," "estimate," "forecast," "objective," "plan," "goal" and similar expressions to identify forward-looking statements, representing our current judgment about possible future events. We believe these judgments are reasonable, but actual results may differ materially due to a variety of important factors. Among other items, such factors might include: the pace of introductions and market acceptance of new products; the effect of competition on our markets and significant changes in the competitive environment; price increases or shortages of fuel; and changes in laws, regulations or tax rates. GM's most recent annual report on Form 10-K and quarterly report on Form 10-Q provide information about these factors, which may be revised or supplemented in future reports to the SEC on Form 10-Q or 8-K.
# # #
CONTACT(S):
John McDonald
GM Sales & Marketing Communications
313-667-3714 (office)
313-418-2139 (mobile)
john.m.mcdonald@gm.com