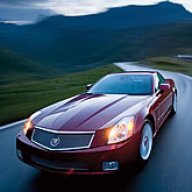 Seasoned Member
Staff member
Site Administrator
Joined

Oct 7, 2006
Messages

5,449
Location
My XLR/V(s)

Not yet!
GM board reviews new turnaround plan for bailout
Automotive News
December 1, 2008 - 12:01 am ET
DETROIT (Reuters) -- The board of General Motors met on Sunday to review a restructuring plan intended to cut costs and win support for up to $12 billion in emergency funding from the U.S. government, a person familiar with the deliberations said.
Along with rivals Ford Motor Co. and Chrysler LLC, GM is rushing to complete the business plans demanded by Congress as a condition of considering a $25-billion rescue package for the embattled industry.
A GM spokesman said the automaker does not comment on board meetings as a matter of policy. "We are moving ahead toward delivering the plan," GM spokesman Tom Wilkinson said.
Privately held Chrysler, which is owned by Cerberus Capital Management, said on Sunday its board would also convene to review its revised turnaround plan ahead of Tuesday's deadline for submission to lawmakers.
"Chrysler is fine-tuning its original plan to meet the reset requiet from congressional leadership," Chrysler spokeswoman Lori McTavish said. "The company's board will be part of the final review process leading up to Tuesday's submission."
Ford spokesman Mark Truby declined to comment on when the automaker's board would review the plans it will submit to Congress.
The GM board meeting came on the same day that UAW President Ron Gettelfinger signaled his union was prepared to offer further concessions in order to win support for the bailout provided management shared in the sacrifice.
"They need to establish that executive compensation is something that they're willing to curtail," Gettelfinger said in an interview on CNN. "They can also give the government an equity stake in the business."
The automakers met with skepticism from key lawmakers at hearings earlier in November and were widely criticized for flying to Washington in corporate jets.
House and Senate Democratic leaders, in a letter to GM, Ford and Chrysler executives, said the companies demanded that each submit a "credible restructuring plan" by Tuesday.
That is the same day that major automakers are expected to report bleak November sales results that show an only limited bounce from October when the consumer uncertainty and tight credit combined to send sales to 25-year lows.
NOVEMBER SALES SEEN BLEAK
November sales are expected to show the auto industry running at a U.S. sales rate of about 11 million vehicles on an annual basis, down by almost a third from 2007's tally.
Analysts see a chance for GM to stop burning cash if the industry recovers back above a sales rate of about 13 million vehicles and it succeeds with a stepped-up restructuring backed by federal funding in a deal that would involve steep concessions from creditors, executives and the UAW.
The union is under pressure to surrender protections that allow laid-off factory workers at the Detroit automakers to collect over 90 percent of their pay by shifting to a jobs bank. The union agreed to restrictions on the program
A potentially more important concession would be winning new terms for payments by GM and other automakers into a $48 billion trust fund scheduled to take over funding health care benefits for retired autoworkers from 2010.
The revised plan GM is set to submit to Congress is also expected to show cuts to executive pay. The automaker paid its top executives more than $40 million in 2007, even as its stock dropped 19 percent and it posted a loss of $39 billion.
In addition, the GM plan is expected to indicate that the company will ask some bond holders to accept equity and a limited cash payout to redeem the debt they hold.
That proposed debt swap is seen as crucial because GM has more than $44 billion in debt on its balance sheet, analysts have said.
The automaker burned through $6.9 billion in the past quarter and ended September with $16.2 billion. It needs a minimum of between $11 billion and $14 billion to operate and pay suppliers and has warned it could fall short of cash early next year without government help.
The revised plans from all three Detroit automakers are expected to focus on their investment in fuel-saving technology and alternatives like GM's battery-powered Chevrolet Volt.
Analysts expect the automakers to detail confidential product plans that show they have a game plan for meeting federal requirements for a 40-percent improvement in fleet-wide average fuel economy to 35 miles per gallon by 2020.
Beyond that, there are separate considerations for Ford and Chrysler as their CEOs prepare to head back to Washington.
Ford is in a stronger financial position than its rivals and has suggested it would prefer to have a line of credit from the government. That would allow Ford to sidestep the issue of control of the No. 2 U.S. automaker for now.
The Ford family holds just under 3 percent of the automaker's shares but controls 40 percent of the voting power under a separate class of shares that could be endangered by a government equity stake in the automaker.
For its part, Chrysler's owner Cerberus has indicated that it needs both an alliance with GM and Ford or other automakers in addition to federal funding to survive the downturn.