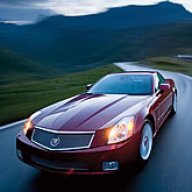 Seasoned Member
Staff member
Site Administrator
Joined

Oct 7, 2006
Messages

5,451
Location
My XLR/V(s)

Not yet!
Why GM Deserves Support
Short-term government backing can preserve a vital industry.

By Rick Wagoner
Much has been said about the impact of the credit crisis on U.S. auto makers, and whether or not the government should assist the industry during this extraordinary financial turmoil. In these discussions, many critics simply ignore the substantial changes that U.S. auto companies have already made -- changes much like those the critics are calling for as part of any aid package.
At General Motors, we have been responding to fierce competition here and abroad by transforming our business. Over the past decade, we have taken tough actions to cut costs, at the same time investing billions in fuel-efficient vehicles and new generations of advanced propulsion technologies.
On the cost-cutting side, we have been streamlining our U.S. operations while simultaneously improving quality and productivity. Since 2000, we have reduced our U.S. hourly workforce by 52%, from 133,000 to 64,000, through buyouts and other programs. During the same period, we have cut our U.S. salaried employment from 44,000 to fewer than 30,000, and reduced our U.S. executive ranks by 45%.
However, we know we cannot just slash our way to prosperity. We have closed the quality and productivity gaps with the imports, as confirmed by J.D. Power and Associates (the consumer ratings firm) and the Harbour Report (which benchmarks North American plant-floor performance). New GM product programs launched earlier this decade have produced award-winning cars and crossovers like the Saturn Aura, Cadillac CTS and Buick Enclave. And that is just the beginning.
The new Chevy Malibu is a clear response to critics who say that GM cannot build cars that customers want. The Malibu leads its segment in highway fuel economy at 33 mpg (2009 EPA figures), and was named best midsize car for initial quality in the most recent J.D. Power and Associates study. No surprise that, even in the worst car market in decades, Malibu sales are up 39% so far this year.
GM has also been working to re-establish its leadership in advanced propulsion technology. We have committed to producing the Chevy Volt -- a revolutionary car that can go 40 miles on electricity alone -- in 2010 in a U.S. factory. We are expanding our family of hybrid vehicles, investing in advanced biofuels, and continuing development of hydrogen fuel-cell vehicles. We are also applying our global technical resources to improve the fuel economy of conventional vehicles. Just one example: The new Chevy Cruze, a global compact car that goes into production in Ohio in 2010, is expected to lead its segment in fuel economy.
GM's commitment to these new products and technologies will help everyone. Consumers will benefit from lower fuel costs, our nation will use less imported petroleum, and our air will become cleaner. Development and production of these new vehicles here in the U.S. will maintain our nation's competitive standing and provide good paying jobs here at home. It also ensures that the U.S. does not trade its current dependence on imported oil for a future dependence on imported batteries and technology.
The auto industry may be historically anchored in Detroit, but it reaches into every state and community in our nation. Take Kansas, for example. GM assembles the Malibu and the Saturn Aura in Fairfax, Kan., making us a major employer there. The wages of our 2,500 workers flow into that community through spending on everything from mortgage payments to high-school bake sales.
Fairfax is not unusual. U.S.-based companies have 105 assembly and component plants in 20 states, including California, Texas, Louisiana and Maryland, states not typically thought of as auto country. GM, Ford and Chrysler last year purchased $156 billion in parts, materials and services, supporting jobs in all 50 states.
Because of GM's deep commitment to its employees, dealers and communities, the company has been restructuring itself without the storm and drama some pundits mistake for actual progress. Working with the UAW, we have transformed our labor agreements to close the competitive gap. We have taken $9 billion out of our annual structural costs since 2005 alone, and we have substantially reduced legacy costs inherited from decades past. In the face of the current credit crisis, we have moved to improve our liquidity by $20 billion through 2009 through cuts in salaried employment, capital spending and other areas.
The future of the domestic auto business is critical to the health of the U.S. economy. It is a vital engine of economic growth and a foundation of economic stability. It remains a path of upward mobility for millions of American families. For America to compete in the global marketplace in the 21st century, it needs a strong manufacturing base and a vital domestic auto industry.
Nearly a half-century ago President Kennedy declared that his generation of Americans was living in extraordinary times and facing extraordinary challenges. Our times are no less challenging. They demand solutions that are creative and courageous.
Short-term government support to bridge the current financial crisis will enable GM to continue as an engine for prosperity and as a creator of vehicles and technologies that America needs. Such assistance will save millions of jobs now, and produce enormous benefits for years to come.

Mr. Wagoner is chairman and CEO of General Motors Corp.