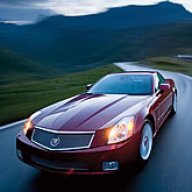 Seasoned Member
Staff member
Site Administrator
Joined

Oct 7, 2006
Messages

5,449
Location
My XLR/V(s)

Not yet!
GM cuts 2,000 jobs, reduces production further as sales fall
Chrissie Thompson
Automotive News
January 26, 2009 - 12:33 pm ET
UPDATED: 1/26/09 3:45 p.m. ET
General Motors will cut about 2,000 jobs at two plants and plans periodic shutdowns at about half of its 16 U.S. factories as consumers continue to shun new vehicles.
The automaker will eliminate one shift at the end of the quarter at its Lordstown, Ohio, plant and its factory in Delta Township, Mich. In addition, nine of GM's other U.S. plants and its Oshawa car factory in Ontario will be idled for "some number" of weeks through midyear, GM spokesman Chris Lee said today.
The cutbacks mark GM's latest attempt to shrink bulging inventories while preparing a viability plan for the U.S. government next month to safeguard $9.4 billion in federal loans. The automaker began phasing out two other shifts in November, slowed production by a combined 56 percent at two other plants and halted work at nearly all its North American plants after the holiday shutdown.
"We're just aligning production with market demand," Lee said. "Nobody was able to buy any cars," he said, referring to the credit crunch that has deepened the U.S. recession while dragging vehicle sales to 26-year lows.
Forecast lowered again
This month, GM lowered its 2009 industry sales forecast to 10.5 million vehicles from a projection as high as 12 million in December.
The Lordstown plant ramped up from two shifts to three last summer as soaring gasoline prices boosted sales of small cars. But in November GM said it would return the plant to two shifts Feb. 2.
The changes announced today will drop Lordstown to one shift April 6, with the first and second shifts' working alternate weeks starting Feb. 9. The plant, where workers make the compact Chevrolet Cobalt and Pontiac G5, will lose about 800 jobs.
The Delta Township plant, which produces the Buick Enclave, GMC Acadia and Saturn Outlook crossovers, will lose about 1,200 workers. Its two shifts will alternate starting Feb. 2, with the reduction to a single shift taking effect March 30.
GM began 2009 with a 102-day supply of new vehicles, down from a 139-day stock Dec. 1. GM's figure is higher than the Jan. 1 industry average of 94 vehicles, which in turn is 50 percent above the level considered normal.
All of the North American factories will resume production at some point this quarter, Lee said.
'Devastating'
The Lordstown cuts are "devastating" to an area that has lost 2,000 jobs as a result of GM's last cuts, said Jim Graham, president of UAW Local 1112. But automakers can't control having to make recent cuts, he said.
"The economy's in the tank," Graham said. "People are afraid to buy big-ticket items like cars, and we're hopeful by midsummer things will start opening up, now that there's a new administration in place."
The Lordstown plant still has a "bright" future because in 2010 it will start making the Chevrolet Cruze, which Graham said he hopes can achieve more than 40 mpg.
Along with eliminating the Lordstown factory's third shift, GM's latest production cuts mean its sedan plant in Orion Township, Mich., also loses a shift Feb. 2. The truck plant in Pontiac, Mich., and sedan plant in Hamtramck, Mich., also begin producing 44 and 68 percent fewer vehicles per hour, respectively.
GM sold 3 million vehicles in the United States last year, down from 3.8 million in 2007. The industrywide total last year was 13.2 million.