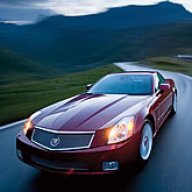 Seasoned Member
Staff member
Site Administrator
Joined

Oct 7, 2006
Messages

5,449
Location
My XLR/V(s)

Not yet!
From LeftLaneNews.com:
GM product roadmap leak: 2009 Cadillac CTC, 2012 Corvette, 2010 Volt
A document detailing GM's new contract with the UAW provides us with a detailed product roadmap for the next five years. It would appear the information was inadvertently made public, but in any case we've compiled a complete summary.
It's not known if the list represents a complete roadmap or only a partial one. Vehicles like the forthcoming Chevrolet Camaro and other Zeta platform cars don't appear on the list because they will be built by the CAW in Canada.
Product commitments:
Cadillac CTS Coupe (CTC) and Wagon to arrive in 2009
Two Zeta platform Cadillacs set for 2011.
Chevrolet Lambda crossover beginning in 2011
Next-generation Corvette and Cadillac XLR coming in 2012.
Next-generation GMC Acadia, Saturn Outlook, Buick Enclave, and Chevrolet version in 2012
Chevrolet Volt beginning in 2010
Global Alpha RWD (2 variants) beginning in 2011
Next-generation "C3XX" full-sized trucks to replace GMT 900 truck beginning in 2013
Hummer H3 successor in 2011
Pontiac Solstice and Saturn Sky continue until 2012
Pontiac G6 continues through 2013
Cadillac DTS discontinued in 2010; Current Buick Lucerne either discontinued or moved to other plant.
Global Delta MPV7 launch in 2009
Global Epsilon Chevrolet beginning in 2012
Global Epsilon Buick and Saturn beginning in 2009