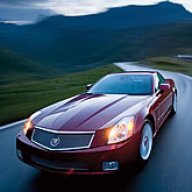 Seasoned Member
Staff member
Site Administrator
Joined

Oct 7, 2006
Messages

5,442
Location
My XLR/V(s)

Not yet!
GM to cut 1,000 low-rated dealerships next year
Jamie LaReau
Automotive News
April 27, 2009 - 4:29 pm ET
DETROIT
-- General Motors plans to contact owners of about 1,000 dealerships starting in May to notify them that their franchise agreement will not be renewed in 2010, a GM executive says.
The 1,000 will be part of GM's plan to cut its roster to 3,605 dealerships by 2010, under new restructuring goals released today. GM finished 2008 with 6,246 dealerships.
"There's approximately 1,000 dealers that basically are very poor performing and not adhering to the sales and service agreement," said GM's Mark LaNeve, vice president of vehicle sales, service and marketing, in an interview today.
"Those dealers would receive a contact very early on in the process preferably in May that they will not be part of a reinvented GM going forward, and we'll work on a transition."
The contact process excludes Hummer, Saab and Saturn dealers. Those brands are for sale.
To determine which dealerships will be retained, LaNeve says GM is considering a dealership's sales, customer satisfaction scores, amount of working capital, facility standards rating and whether the dealership is dualed with an unapproved brand.
GM's regional representatives are in Detroit this week to sift through that data, LaNeve says.
GM might have to cut more dealers than it outlined today, LaNeve says. "A big variable might be what happens with Ford and Chrysler," he says. "The goal is a competitive dealer body."
Here's how LaNeve sees dealer consolidation shaking out:
• GM will lose hundreds of dealers in the next two years to normal attrition. GM has already lost 200 dealerships in the first quarter. It typically loses that amount in a whole year.
• The sale of Hummer, Saturn and Saab will eliminate about 500 dealerships, LaNeve says. They will not be included in the 1,000 dealerships targeted in May. • GM will provide assistance to the 1,000 dealerships that will not be renewed, but LaNeve declined to be specific.
• GM will work with the surviving dealerships to form consolidations that conform to the automaker's channel strategy of Cadillac, Buick-GMC and Chevrolet over the next 18 months, he said.
In major markets, Chevrolet and Cadillac will be stand-alone channels, GM said in the new restructuring plan. Buick-GMC will stand alone or be aligned with Chevrolet or Cadillac with a "separate sales operation depending on market penetration and real estate costs," GM said.
A GM spokesman said that in big markets there might be some superstores consisting of all four brands and that stores could be realigned to carry three brands.
In mid-sized and small-town markets, GM said, "in many cases Chevrolet and Buick-GMC will be aligned with one dealer operator."
GM will "dramatically lower" the number of Cadillac dealerships it has in small markets.
LaNeve says GM hopes to have the plan in place for dealership consolidation by the end of 2010.