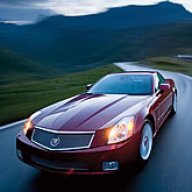 Seasoned Member
Staff member
Site Administrator
Joined

Oct 7, 2006
Messages

5,449
Location
My XLR/V(s)

Not yet!
GM to return two leased jets amid criticism
11.21.08, 12:02 PM EST
By Poornima Gupta

DETROIT, Nov 21 (Reuters)
- General Motors Corp (nyse: GM - news - people ) will return two of its leased corporate jets amid intense criticism in Washington this week on the luxury travel arrangements of its chief executive even as the company pleads for federal aid.
CEO Rick Wagoner was in the capital to testify on the company's dire financial situation but his testimony was overshadowed by irate lawmakers who blasted him for flying on a private jet to ask for public funds and failing to make personal sacrifices in exchange for federal assistance.
Chief executives from Ford Motor Co (nyse: F - news - people ), and Chrysler LLC, who were also there to plead for $25 billion in federal aid, came under fire too for flying to Washington in private jets.
GM spokesman Tom Wilkinson said on Friday GM decided to return the aircraft because of a 'really aggressive cutback in travel.'
The company, which is in a cost-cutting mode, is scrutinizing every trip, he said, but declined to disclose the name of the company it leases the airplanes from.
Wilkinson said the decision to return the leased corporate jets was made before this week's hearings and that the company in September returned two other of the seven jets it had at the beginning of the year.
'There is a perception issue,' Wilkinson said of Wagoner's travel to Washington on a private jet. 'We need to be very sensitive to that going forward.'
He, however, said the company has not decided on what mode of transportation Wagoner would take if had to travel to Washington again.
Wagoner and Ford CEO Alan Mulally are required by their companies to fly by private aircraft for security reasons, according to company documents filed with the U.S. Securities and Exchange Commission.
The policy for Chrysler CEO Robert Nardelli is not required to be disclosed because the company is not publicly traded.
Skeptical lawmakers took to task the three CEOs for their luxurious travel arrangements at congressional committee hearings.
'Couldn't you have downgraded to first class or something, or jet-pooled or something to get here?' Rep. Gary Ackerman, a New York Democrat, asked the executives at a hearing held by the U.S. House Financial Services Committee.
Even Democrats who said they were sympathetic to the automakers' plight expressed frustration that the executives used private jets while professing ruthless cost-cutting measures.
A Chrysler spokesman said the automaker also leases or charters jets. He, however, declined to comment on whether the company was rethinking the use of private jets for executive travel, saying it was a 'private matter.'
Ford did not have an immediate comment on its corporate jet policy.
According to Ford's proxy, CEO Mulally's compensation included $752,203 in 2007 for personal use of company aircraft.
About two years ago, the head of Ford's North American operations, Mark Fields, gave up use of a corporate jet for personal travel to his home in Florida after the arrangement came under criticism at a time when the automaker was losing billions and slashing jobs.
He now flies first class on commercial planes.
(Additional reporting by David Bailey, editing by Dave Zimmerman) Keywords: GM/JETS
(poornima.gupta@reuters.com; 313-967-1901; Reuters Messaging:
poornima.gupta.reuters.com@reuters.net
)
Copyright Thomson Reuters 2008. All rights reserved.
Neither the Subscriber nor Thomson Financial News warrants the completeness or accuracy of the Service or the suitability of the Service as a trading aid and neither accepts any liability for losses howsoever incurred. The content on this site, including news, quotes, data and other information, is provided by Thomson Financial News and its third party content providers for your personal information only, and neither Thomson Financial News nor its third party content providers shall be liable for any errors, inaccuracies or delays in content, or for any actions taken in reliance thereon.