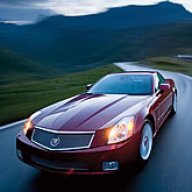 Seasoned Member
Staff member
Site Administrator
Joined

Oct 7, 2006
Messages

5,451
Location
My XLR/V(s)

Not yet!
GM to slow down plant
On company's 100th anniversary, about 70 to be laid off, production schedule being reduced
By JENNA MINK, The Bowling Green Daily News, jmink@bgdailynews.com/783-3246
Tuesday, September 16, 2008 11:53 AM CDT
General Motors is slowing down production at its Bowling Green assembly plant, cutting production and laying off about 70 employees.
"We regularly look at our production and take it down," said Tony Sapienza, communications manager for GM. "But it's unusual for that plant to go down."
The plant will shut down for a week starting Oct. 6 to move equipment and train employees to slow assembly from 18.5 to 15 vehicles an hour.
"In order to do that we will have to change every job on the production line," said Andrea Hales, communications manager for the Bowling Green plant.
The plant employs about 800 workers. The potential job cuts will affect hourly paid employees, Hales said.
Layoffs will begin around Oct. 13, said Eldon Renaud, UAW Local 2164 president.
These are the first layoffs at the Bowling Green plant since 1987, when officials cut the second shift production, he said.
"People have transferred here because the Corvette has been economy-proof," Renaud said. "But in a receding market like we have now, and the fact that people have so many financial worries ... people are saying 'Well, this is my third or fourth car. Do I need one now?' "
Other plants, particularly truck and SUV facilities, announced similar cuts earlier this year, Hales said.
But Sapienzo echoed Renaud, saying that while other products suffer in a down economy, the Corvette tends to stay afloat.
"Historically, the Corvette does well regardless of economic conditions," he said.
But not this time. High gas prices and the spiraling credit market has hurt luxury vehicles such as the Corvette and Cadillac XLR, which are produced at the Bowling Green plant.
"It's a matter of disposable income," Hales said. "A lot of our cuts are (due to) consumers thinking twice and holding on to their money."
The Corvette is still very strong in the luxury vehicle market, but the entire segment is faltering, Hales said.
According to Motor Trend, Corvette sales have dropped 8.5 percent since the beginning of the year.
The potential layoffs will be plant-wide and not on a particular line, Hales said.
The announcement precedes a 100th anniversary celebration at 1 p.m. today at the plant. Local and state officials were to be on hand to speak at the ceremony.
Renaud said that despite the slow-down, the Bowling Green plant has a bright future ahead.
"I don't see any problems with this plant," he said. "I think we'll be back by spring."