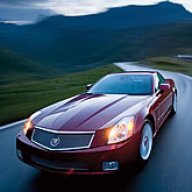 Seasoned Member
Staff member
Site Administrator
Joined

Oct 7, 2006
Messages

5,449
Location
My XLR/V(s)

Not yet!
GM-UAW Deal
Contract gives deep dive into future GM plan.
The official summary of General Motors' tentative contract with the United Auto Workers includes a sweeping look on GM's product plan for the next half decade.
The product plan for a company such as General Motors is usually shrouded in mystery, but the union asked GM to guarantee jobs as part of the bargain, which basically traded financial concessions for commitments on new investment, which the union outlined in its official contract summary.
Starting in 2010, the Chevrolet Volt hybrid electric vehicle, which had been rumored to be heading forMexico or to a contract assembler, will be built at the GM's Hamtramck assembly plant in the center of Detroit. In addition, GM also has promised to build another product on the global small car platform starting in 2009 at Hamtramck and a Chevrolet mid-size car in Detroit in 2012, according to the UAW's contract summary.
GM's assembly plant in Lordstown, Ohio will continue to build the Chevrolet Cobalt and Pontiac G5 through 2009. But in another closely watched decision, four-door subcompacts off a global architecture will be built in Lordstown starting in 2011, the union said. Many analysts had expected GM to build the subcompact models in Mexico or another low-wage country.
The Chevrolet Malibu and Saturn Aura will continue to be built at GM's assembly plant in Fairfax, Kan., until 2011. Mid-size Buick and Saturn products will be built at Fairfax in 2009 and starting in 2010, the plant also will assemble a large four-door notchback sedan for Chevrolet, the union reported.
At Lansing/Grand River in Lansing, Mich., the plan outlined by the UAW calls for GM to continue building the Cadillac CTS, STS, and SRX through 2009 and the Cadillac CTS wagon and coupe in 2009. Two new rear-wheel-drive large cars, most likely the new version of the STS Cadillac officials have hinted about in recent months, will be loaded into the plant in 2011.
GM's newest plant - Lansing/Delta Township, Michigan - will continue to build the GMC, Saturn and Buick large crossovers until 2011 and the replacements for the current versions, starting in 2012. In addition, the Delta Township plant will also build a large crossover for Chevrolet beginning in 2011.
GM also appears to have committed to building a replacement for the current mid-size pickup truck built in Shreveport, La. The Shreveport plant will continue to build the HUMMER H3 SUV and pickup, and the Chevrolet Colorado and GMC Canyon mid-size pickups, through 2011. In addition, Shreveport will also build the H3 SUV and pickup replacements, starting in 2011.
GM's assembly plant in Bowling Green, Ky. will continue to build the Corvette and the Cadillac XLR until 2011. Replacements for both products are due in 2012, according to the union.
GM truck assembly plants in Flint, Mich.; Fort Wayne, Ind.; and Pontiac, Mich. also are slated to begin building the next generation of full-size pickup trucks and all of their variations by 2012.
Plants in Arlington, Texas and Janesville, Wisc. will begin producing GM big sport-utility vehicles in 2013, according to the UAW.
GM assembly plants in Orion Township, Mich.; Wilmington, Del.; Spring Hill, Tenn.; and Wentzville, Mo. will continue to operate well into the next decade but their future beyond 2012 is less certain.
Orion will continue to build the Pontiac G6 through 2013 but GM has no product plan listed for the plant after that. GM's plant in Wilmington, Del. will continue to build the Pontiac Solstice and Saturn Sky until 2012. The union indicated that Wilmington has no product listed for production after 2012.
In the case of Wentzville, the plant will continue to build and ship Chevrolet and GMC large vans through their product life cycle beyond 2012 but the investment for the next generation of those products "depends on demand and business case."
The full-size vans have wide range of commercial uses and they are also used as shuttle buses and even school buses. GM's dilemma is it doesn't want to give up the business, but GM probably doesn't want to sink a lot of money into it either. The business thus could become a candidate for joint venture, perhaps even with Ford, in the future.
Meanwhile, the tentative agreement also includes a two-tier wage system will allow the automaker to pay lower wages for certain jobs.
The contract summary released by the union also said GM will transfer $29.9 billion into the new Voluntary Employee Benefit Association to cover the cost of retiree healthcare in the future. GM also agreed to backstop the fund with an additional $1.6 billion should it get into financial trouble.
In addition, General Motors has made specific investment commitments at 16 different factories. Without the investments, the factories could have become obsolete, jeopardizing the jobs of the workers, UAW officials said. The new commitment represents billions of dollars in new investment, union officials said.
GM also plans to offer buyouts and early retirement to 24,000 workers or about one-third of company's current workforce of 74,000. As they retire, the workers could be replaced by new workers paid at the new lower wage rate.
Union members also won't be getting any pay increases during the four-year agreement but they will get a $3000 signing bonus and one-time lump sum payments in 2008, 2009, and 2010, equaling three percent of base wages or about $2100.
GM and the UAW concluded the new tentative agreement on Wednesday after a 40-hour strike that halted all of GM's operations in the U.S. in the first nationwide strike in 37 years.