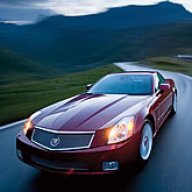 Seasoned Member
Staff member
Site Administrator
Joined

Oct 7, 2006
Messages

5,442
Location
My XLR/V(s)

Not yet!
GM will kill some Chevy, Pontiac cars
Cadillac will discontinue the STS-V

Jamie LaReau
Automotive News
May 8, 2009 - 4:35 pm ET
UPDATED: 5/8/09 4:59 p.m. ET

DETROIT
-- General Motors said today it will stop building the Pontiac G6 GXP sedan and coupe at the end of this model year, as well as the Chevrolet Impala SS and Cobalt SS sedan.
GM also said today Cadillac will discontinue the STS-V at the end of 2009 model year.
Pontiac spokesman Jim Hopson said the decision to kill the G6 GXP is not related to the phase-out of Pontiac, which GM plans to accomplish by the end of 2010. It stemmed from an earlier decision to pare Pontiac down to a niche brand, he said.
"There is a movement here to reduce the build complexity -- that's the number of trim levels we sell, not the nameplates -- so that was the decision behind taking out the GXP," said Hopson.
He added: "We'll have more information in the weeks to come of exactly when each Pontiac vehicle will go out of production."

'To be determined'
At Chevrolet, meanwhile, the Cobalt SS coupe will continue "a while longer -- to be determined," said Terry Rhadigan, Chevrolet spokesman.
"Demand was pretty light for both models, and so it was a business decision that we made based on the demand," he said..
Some Chevrolet dealers say they will miss the Impala SS sedan because there was some call for it, though not a lot.
"But if GM isn't selling enough to cover production, I understand," says Gordon Stewart, whose family owns Chevrolet dealerships in Michigan, Florida and Georgia.
The 2009 Impala SS has a 303-hp V-8 engine and gets 29 mpg on the highway. The previous version of the Impala SS is a rear-wheel-drive car. It sold well until GM phased it out of production in 1996.
GM relaunched the Impala first as a V-6 version in 2003, but on a front-wheel-drive platform. The current V-8 Impala model was launched in 2005.
GM just launched the Cobalt SS sedan in 2008 -- and quickly discovered no call for it. "It had a pretty short run," Rhadigan says.
GM does not release sales data on trim levels. Through April, GM sold 32,065 total Cobalts, down from 66,660 in the year ago period. GM sold 45,047 total Impalas through April, compared with 98,478 a year earlier.
'Time to move on'
The STS-V has run its course, a Cadillac spokesman said.
"The V series is here to stay, and we'll add future V models to our future portfolio, it's just this model," said spokesman Klaus-Peter Martin.
GM introduced the STS-V in 2005 calendar year as a 2006 model. "It's had a long life and it did what it was intended to do, but it's time to move on," he said.
He added: "The CTS-V has been off to a very good start and we sold more CTS-V in four months than we sold STS-V's in a whole year.
Richard Truett contributed to this report