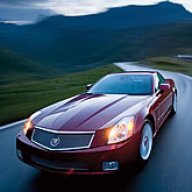 Seasoned Member
Staff member
Site Administrator
Joined

Oct 7, 2006
Messages

5,451
Location
My XLR/V(s)

Not yet!
Goldman suspends GM rating, sees $22 billion bailout

November 13, 2008 - 10:45 am ET

DETROIT (Reuters) -- Goldman Sachs today suspended its rating on General Motors and said the automaker needs at least $22 billion in federal aid to survive a deepening industry downturn.

Goldman Sachs forecast the No.1 U.S. automaker will end 2008 with $12.5 billion in cash, within the $11 billion to $14 billion minimum range GM has said it needs to operate, requiring GM to look toward the government for aid.

GM's shares, which hit a 65-year low this week, slipped about 5 cents, or 1.6 percent, to $3.03, as the market awaited details on whether the U.S. government would push forward with a rescue plan for the auto industry.

Goldman Sachs said a new program to support the auto industry is most likely, though the timing was uncertain.

Also today, JPMorgan cut its GM rating to "neutral" from "overweight" and said the automaker needs "something immediately" to make it through the end of the year.

JPMorgan, which also slashed its target price for GM stock to $1.84 from $3.08, said a government bailout could easily reach $30 billion unless GM reforms its vast liability structure.

The warnings are the latest in a series of gloomy forecasts from Wall Street banks in the wake of GM's deeper-than-expected third-quarter loss and cash burn announced last Friday.

Analysts have warned that any government assistance, which they believe is a must for GM to survive through early 2009, would come at a significant cost to existing shareholders.

U.S. lawmakers have said in recent days they might support efforts to aid the struggling industry over and above $25 billion of low-interest loans previously approved to support capital investment to meet new fuel economy mandates.

Lawmakers will hold a hearing next week to consider a bill to provide another $25 billion in federal loans to U.S. auto manufacturers, possibly using part of the $700 billion financial market rescue law enacted last month.

But the White House said on Thursday it was not the intent of Congress to use the financial rescue package to help ailing U.S. automakers.

GM, Ford Motor Co. and Chrysler LLC are all burning through cash amid a global credit crunch that has accelerated the decline in U.S. auto sales and placed severe limits on corporate and consumer borrowing.

GM ended September with $16.2 billion in cash, down from $21 billion at the end of the second quarter.