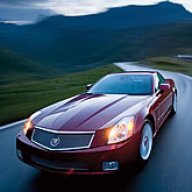 Seasoned Member
Staff member
Site Administrator
Joined

Oct 7, 2006
Messages

5,442
Location
My XLR/V(s)

Not yet!
FOR RELEASE: 2009-03-19
Hot Car, Hot Spot: Cadillac CTS Adds WiFi System
DETROIT
– Cadillac will offer wireless internet access for its best-selling model, adding a new dimension to the passenger experience. Cadillac Wi-Fi by Autonet Mobile comes to the CTS Sport Sedan in April, giving passengers full internet access in and around the car via their laptop or WiFi device.
The launch of Cadillac WiFi by Autonet Mobile will begin with live demonstrations at the New York International Auto Show April 10-19.
"Consumers today are frequently searching for WiFi access wherever they may be," said Mark McNabb, North America Vice President, Cadillac. "Adding WiFi is a natural extension of the tech features already inside the CTS, such as a 40 gigabyte hard drive with USB port, a pop-up navigation system featuring real-time traffic and weather forecasts and the exclusive ability to pause and rewind live radio."
Cadillac WiFi uses technology from Autonet Mobile, the world's first Internet Service Provider designed exclusively for cars. Cadillac WiFi by Autonet Mobile turns the car into a WiFi hotspot and works with any operating system supporting any Wi-Fi enabled device. It delivers an easy-to-use and seamless internet experience, with 3G mobile technology that maintains internet connections while the car is in motion. The system can support several devices at once, enabling one passenger to update a Facebook page, while another is gaming online or watching YouTube videos, for example.
Designed for use by passengers, the system requires no special software and achieves speeds up to 800Kbps. The dealer-installed option will retail for $499, with a monthly service subscription of $29.
# # #
About Cadillac
Cadillac is a division of General Motors Corp., and a leading luxury auto brand since 1902. In recent years, Cadillac has engineered an historic renaissance led by dramatic new designs and global expansion. More information on Cadillac can be found at
www.cadillac.com
.
General Motors Corp. (NYSE: GM) Founded in 1908, GM manufactures its cars and trucks in 35 countries. More information on GM can be found at
www.gm.com
.
About Autonet Mobile
Autonet Mobile is the world's first in-car internet service provider. Founded by a corporate executive and former race car driver and a leading network architect and designer, the company is dedicated to enhancing the in-car experience by bringing the internet into cars. For more information visit
www.autonetmobile.com
.
CONTACT(S):
David Caldwell
Cadillac Communications
Phone: 313-665-7252
E-mail:
david.caldwell@gm.com