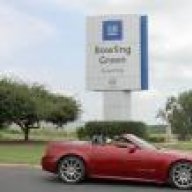 Joined

Jul 7, 2009
Messages

533
Location
My XLR/V(s)

2006 Infared XLR-V
Texas Allante-XLR Aficionados -
SAVE THE DATE Saturday, March 3[SUP]rd[/SUP], for our First Annual Covey Trails Airport Run near Fulshear, Texas. This southwesterly drive will begin at the Covey Trails Airport, at the home of Rudy & Nancy King, just off FM 1093 (past Westheimer Rd.), at
48 East Kitty Hawk.
Bar-B-Que will be served. Start time 10am until 4pm. NOTE: Rudy and Nancy have a mock-up "Texaco" themed garage hanger for show 'n tell. This will be an exciting drive day.
More details coming soon!
PS: Allantes FOR SALE in Houston: If interested, there is a very nice "show quality" low mileage Pearl 92 for sale in The Woodlands; a low mileage (53kmi) rare Montana Blue 93 in Cypress (needs some paint and dashboard work); and a nice low mileage Red 93 in Smithville.
For more information contact:
John Maida
Houston-Southeast Texas Coordinator, Allanté XLR Club
John@MaidaPlace.com
713-822-4027
Main Houston Web Page:
For the complete 2017 meeting schedule:
http://www.allanteclubofamerica.com/content.aspx?page_id=22&club_id=179768&module_id=5322
Facebook Pages: "Allante XLR Texas"
(Steven Colburn's Texas Allante XLR pages)
Graeme Smith's website
Houston Allante Club - Graeme Smith Photography
. Great "Allantes-in-Action" photo collection from our "Texas Bluebonnet Run" road trip of April 2014….what a great trip! Thanks Graeme for these excellent photos, which are for sale on the website.
General Websites:
https://allante.com/
Allant Appreciation Group Home Page