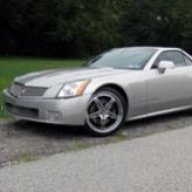 Joined

Jan 1, 2009
Messages

349
Location
My XLR/V(s)

2006 Silver XLR-V
Now that I've hit 16k miles, it looks like I need new tires on my V. Here's what I'd like:
I'm only interested in run-flat tires... I've had three flats in 16k miles, and every one of those flats I got in a city away from home.
I'd like wider rear tires than 255 - after the performance upgrades, its harder to maintain traction on hard acceleration.
I'd like to see options that will allow me to keep my stock rims... but this is flexible.
So some options I've come up with are:
Just forget it, and get the stock tires in the stock sizes and move on.
The stock Pirelli eufori@ run-flats are available in 275/40R19 which may not fit on the stock 8.5"-width wheels in the rear. The overall diameter would move from a stock 27.03in to 27.66in which is about a

2.28% increase. (I will just get the computer reprogramed to correct the speedo).

I will just keep the stock 235/45R19 up front.
I found that the Goodyear Excellence RunOnFlat tire is also available in 275/40R19 for the rear... and its availble in 245/45R19 which I could put up front.
Assuming that the 8.5" stock rims can't take more than a 255mm width tire - I guess i'll have to upgrade wheels... any wheel/tire combinations that max out the sizes but are still runflat that people can suggest?
I saw this ebay listing where he got
285/30R20
's to fit...
http://cgi.ebay.com/ebaymotors/Cadillac-XLR-2004-CADILLAC-XLR-Mint-Condition-WHEELS-HOT_W0QQitemZ260407101811QQcmdZViewItemQQptZUS_Cars_Trucks?hash=item3ca1790973&_trksid=p4506.c0.m245&_trkparms=65%3A13|39%3A1|240%3A1318
Any thoughts and/or advice would be helpful....