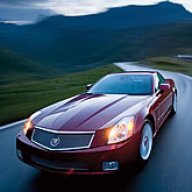 Seasoned Member
Staff member
Site Administrator
Joined

Oct 7, 2006
Messages

5,449
Location
My XLR/V(s)

Not yet!
Q+A: Orange Is the New Blue for GM's Design Guru

April 16, 2007
Brandweek.com

DETROIT -- General Motors loves the color orange. So much so that nearly 75% of its upcoming stable of vehicles will be available in some variation of orange in the next few years. Its Trax concept, for example, unveiled at the New York International Auto Show earlier this month, was displayed in Blaze Orange. In fact, look for more vehicles from various U.S. automakers to be available in this rather unorthodox hue: Ford's new Land Rover LR2, for one, is pictured in print ads in what GM calls Tambora Flame Metallic—orange to you and me. For Chris Webb, color is the name of the game at GM, where as Trends and Exterior Color Designer he heads a 30-person team. The group is such a prized commodity at GM that each member has to undergo a specialized annual eye test to make sure they are seeing and discerning colors correctly. Webb spoke with Brandweek senior reporter Steve Miller about the art and marketing of colorful cars.

Brandweek: Does color matter more today in marketing a car than in the past?

Chris Webb: Color plays a huge role. Each GM vehicle is now launched in 10 colors, which shows just how much color does mean to a buyer. We develop 22 new colors a year. Some are used on one vehicle, others on a number of models as determined by trend research. A [recent] study found that 39% of customers who walk into a car dealership will leave and go to a different brand if they can't get the color they want. Color is one of the quickest, cheapest and most visibly successful ways to differentiate [from the competition]. And it's no coincidence that the return of color coincides with the increasing role of women in making car-buying decisions. We track colors through fashion, so we saw orange coming four years ago. Purple has not sold well traditionally, but we now have a tri-coat shade of purple that will not only be an option but we think will [soon] be very popular.

BW: Is there a direct coordination between marketing and design in considering colors?

CW: Historically there was a disconnect. Now design and marketing work very closely to plan the strategy way in advance. The plan for 2009 has already been set and the 2010 strategy will be in place by October. We can launch a new vehicle in a feature color sold in limited quantities at a premium price. Or we do a "promotional color package" where we charge for specific limited-run colors. This has worked very well for GM: the Sunburst Orange Metallic on the 2003 CTS Launch, the Victory Red and Ceramic Blue Metallic on the Hummer H2 and Arrival Blue Metallic on the Escalade EXT. Right now we offer a Golden Quartz Metallic on the Cadillac XLR.

BW: What does it mean to General Motors if a new color is successful?

CW: It can mean exposure and sales to a whole new customer base, which might not have previously looked at our brands. It can be a bigger revenue maker than the average color sold on vehicles, and helps us potentially obtain more media coverage due to the uniqueness of these vehicles. The hue-shifting gray running right now on the Cadillac DTS is called Titanium and the one on the Buick Lucerne is Sharkskin. The old gray, which was free, ran at approximately 6.4% [of sales]; the new gray is a $995 option and is running at more than 7.8%. We've increased the cost of a tri-coat paint job on vehicles three times and it's never affected sales. In general, these trend-focused, targeted vehicles allow GM design and marketing to show consumers we are truly a design/lifestyle driven corporation, which is what the majority of consumers expect and demand.

BW: Do you see this moving from limited-edition to a larger production run?

CW: In 2009, we are going to start offering special shades on Chevys for a lower price, between $295 and $795. There will be many more options in that model year than we have seen before.