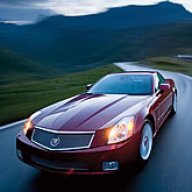 Seasoned Member
Staff member
Site Administrator
Joined

Oct 7, 2006
Messages

5,449
Location
My XLR/V(s)

Not yet!
2009 Cadillac CTS-V
A $100,000 sports car with two extra doors for $60,000
By Malcolm Gunn
Wheelbase Communications
Friday, December 5, 2008
It's an executive-class Cadillac with the heart of a Corvette sports car. And for the high-performance 2009 CTS-V, that heart is bigger and beats a whole lot stronger.
The "V" is Cadillac's ultimate expression of a sports luxury coach and represents the brand's (and parent General Motors') latest attempt to dethrone some of the mightiest four-door hot rods around, including Germany's top-performing sedans that boast well-earned performance pedigrees.
Cadillac's "V" series of cars, encompassing the larger STS-V sedan and XLR-V two-seater, have also helped change the opinions of many who once considered GM's upscale division as a builder of dull and dowdy cruisers.
The original CTS-V that was launched for the 2004 model year was the first to dispel that notion. With it's 400-plus horsepower Chevrolet-Corvette-based V8, there was at long last a Caddy that could run, steer and stop with the big dogs and look great doing it.
The 2009 version, however, represents much more than simply the next rung up the performance ladder. It's a giant leap into the stratosphere where the 500-horsepower BMW M5, 507-horsepower Mercedes-Benz E63 AMG and the Audi S6 with a "mere" 435 horsepower on tap come to play.
Against this trio, Cadillac brags that the new CTS-V is its most powerful production model offered in the marque's 106-year history. In fact, the supercharged 556-horsepower 6.2-liter cam-in-block LS-series V8 is similar to that of the new 2009 Corvette ZR1, which makes 638 horses. Both use a belt-driven supercharger mounted to the top of the engine to compresses incoming air, which in turn boosts power levels to mind-blowing levels. By contrast, the larger STS-V's high-tech overhead-cam supercharged engine is all Cadillac, an offshoot of the Northstar 32-valve design. Displacing just 4.4 liters - 35 percent less than the CTS-V - it makes 469 horsepower.
Unlike the original CTS-V, the 2009 four-door can be ordered with an optional six-speed automatic transmission with steering-wheel-mounted shifter paddles. Still standard is a six-speed manual gearbox that has been strengthened to take 551 pound-feet of torque.
Cadillac claims a zero-to-60-mph time of less than four seconds, chopping a full second off the previous CTS-V's time.
Being that quick, however, means the CTS-V has to stop, like, right now. Braking comes via Brembo, an Italian company with its roots in racing. The front rotors measure a whopping 15 inches (squeezed by six-piston calipers) while rears spec out at 14.7 inches (mated to four-piston calipers).
Also featured is Magnetic Ride Control that constantly adjusts the degree of shock damping by varying the electric current traveling through what amounts to liquid metal. This makes the V soft over the bumps while helping it hold on to the road during high-load corning maneuvers. The system can also be manually adjusted to either Tour and Sport (firm) mode.
All the CTS-V's mechanical components went through a rigorous fine-tuning process at Germany's Nürburgring race course, a 14-mile track featuring dramatic elevation changes, tight corners and extended straightaways. It's used by numerous high-performance manufacturers for sorting out their equipment.
Distinguishing CTS-V visual cues include a nose that effectively doubles the amount of fresh air directed to engine bay and front brakes. The brightly coated wire-mesh-style grille is a bit excessive, but highly noticeable, as is the 19-inch wheel-and-tire package and the raised hood enveloping the supercharger.
As expected, the $60,000 CTS-V contains plenty of upscale appointments while offering only a limited number of options such as a set of 14-way adjustable Recaro-brand front seats and a generously sized sunroof.
The CTS-V is a serious luxo-tourer that deserves top honors for tackling some formidable competitors while demonstrating Cadillac's capability for creating a fast-class automobile.
What you should know: 2009 Cadillac CTS-V
Type: Four-door, rear-wheel-drive luxury sedan
Engine: 6.2-liter OHV V8, supercharged (556 hp)
Transmissions: Six-speed manual; six-speed automatic (opt.)
Market position: German-made vehicles lead the way in the high-performance sedan segment, but Cadillac has brought some North American flavor to this exclusive club.
Points: More power than you'll ever use other than on a race track; easily the best-looking Cadillac in the fleet; not just a big engine: performance profile extends to suspension, braking and wheels/tires; standard luxury touches will keep competition on its toes; AWD option would make this Caddy a world beater; makes $60,000 look like a screaming deal.
Safety: Front airbags; side-impact airbags; side-curtain airbags; anti-lock brakes; traction control; stability control.
The numbers: MPG (city/hwy)13/19 (MT); Base price: $60,000 (including destination)
By comparison
BMW M5
Base price: $85,900
Ultra-quick 500-horse V10 with automated manual gearbox.
Audi S6
Base price: $72,350
The only AWD sedan of the bunch, roomy, luxurious and fast.
Mercedes-Benz E63
Base price: $88,500
AMG goodies turn this sedan into a hard-charging hot rod.