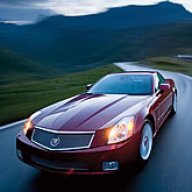 Seasoned Member
Staff member
Site Administrator
Joined

Oct 7, 2006
Messages

5,386
Location
My XLR/V(s)

Not yet!
Lot S159 1957 Cadillac Eldorado Brougham
The Frank Sinatra Car
For decades the main digs for America's entertainment royalty were in Hollywood and New York, but then the post war boom spread across the country and Las Vegas became the new playground for the showbiz elite, with Frank Sinatra leading a new generation of stars and a new American style. The carmakers understood the value of this new brand of star power, and in 1957 Cadillac fired the shot heard 'round the world in the celebrity car wars, vanquishing its rival Continental Mk. II with the outrageously expensive and opulent new Eldorado Brougham.
Each copy cost GM $23,000 to build, yet they listed at just over $13,000. Even at that loss, the Brougham cost thousands more than a contemporary Rolls-Royce and came equipped with a list of standard features that rivaled a Tolstoy novel for sheer volume. It was the first production car with full pneumatic suspension, and the first with a six-way power seat with memory. It also featured individual heating front and rear, power door locks, an automatic opening and closing trunk and Autotronic Eye headlight dimmer. The interior was also well stocked with less conventional luxuries, including magnetic-bottomed stainless-steel drink tumblers in the glovebox, a tissue dispenser in the glovebox door, a complete lady's grooming compact, a cigarette case, and even an atomizer filled with "Arpege Extrait de Lanvin" perfume!
The Brougham also had characteristically adventurous Cadillac styling that began with the first production center-opening doors and included a brushed stainless steel roof, quad headlights and the first full-fledged fins that would grow enormously in future models.
Full Mecum Listing and Photos:
http://www.mecum.com/auctions/lot_d..._medium=email&utm_campaign=CA0809_080509_S159