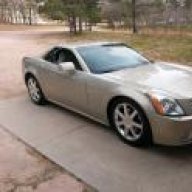 Joined

Sep 2, 2013
Messages

563
Location
My XLR/V(s)

2006 Gold Mist XLR & 79' Eldorado Convert
Hi all,

Well winter's almost over I think? Two days ago we had 10" of new snow and another 3" yesterday, but tomorrow it's supposed to be 70 degrees. Yeaaa! Yup, "Springtime In The Rockies".
"Goldie" has been excercised over the winter a few times on and off between storms but has hibernated like our local bears, but in the garage under a soft car cover.
Like my Canadian co-member I have been gone from the site for so long that I must have also been hibernating, huh? --- I have missed my on site co XLR friends though! And no Danny in Chicago, the altitude has not effected my brain, I don't think?
--- Summer time top down cruising coming soon even to Chicago. I should complain? NOT. Boy have you guys been hammered this winter. I'll bet you are
really
ready for Spring and Summer.
The high mount brake light is sorted and functioning thanks to Danny in Chicago and Logan Diagnostics in Tenessee who rebuilt it using Danny's old smooshed one, and Stella's advice. This week it goes up on the jack stands for awhile as I am going to perform some maintenance work. Trans Fluid drain flush, filter change and refill, Coolant same. And it coolant drips ocassionally as well. Probably a loose hose clamp I hope? Plus the Trans Cooler lines have been leaking a bit at the front so will for now just snug them down and hope for the best and then if they leak change out the flat gasket seals at the tranny cooler lines. Will go to Cadillac this week and pick up the Trans Fluid and to the local auto parts store for new Dex Cool. Apparenlty the trans cooler lines loosening up by themselves is fairly common per my local Cadillac Dealer's XLR Tec. He said just do this first; snug them down with a wrench. Also told me that if I do have to change the gaskets later then just do one line at a time as if you disconnect them both the cooler falls out of alignment below the radiator and it is a pain to get back into the proper position.
Am planning on filling all the gouges in the rocker panels and front bumprer air dam, sanding it all down and doing a re-spray as The Doctors wife (original owners) from whom I bought it, found lots of curbs and speed bumps during the 29K miles they drove it in San Diego. Yes, I will mix in flex agent and will do the tri-coat finish to match by having the paint custom mixed. Just the front bumper and rocker panels.
Yesterday I ordered the repair manual for it from Helm Inc. (
Service Manuals, Owner Manuals, Wiring Diagrams, Service Bulletins - Helm Incorporated
) . Will let you know what I think of their manual when received? Be aware that while the manual is $50.00 they charge another $22.47 additional for 'shipping and handling'. Total $72.47. I guess paper is really expensive to ship these days?
--- But still beats $300.00 + for original factory repair manual set.
Stella, you installed the Corvette Heat Shield on your XLR I believe. The one that is used on The C-6 Vette I think. Did the bolt holes line up and all? Or did you have to make modifications to fit it to your XLR? This to shield the heat at the console inside from the exhaust system I believe? You got it from Elite Engineering.
Featured Products
There are two of them offered. Which did you use and do you recommend? I am debating having the stainless X pipe ceramic coated? I think you did this as well, correct? Do you feel that it is also necessary? The heat last year was really annoying when I drove it back to Colorado from San Diego.
Rod you scared me a little about my planned service on the trans, but without any details as to why? I guess I'll find out as I am pretty stubborn about wanting to do all my own work and mostly not trusting the care and caution of others that I will take.
Gizmo, I know you are a performance XLR guy and have done amazing things performance wise to yours, like 575 horseys I believe? I would appreciate your weighing in on mild performance mods I might make on the 4.6? No, it's not a 'V' ike yours darn it.
Does a new Prom Chip increase power? Here's one recommended by the Cadillac XLR guys in Texas.
Cadillac XLR Performance Chip
Or is this something that's better left alone? What's involved in doing this? What do you recommend for mild hop up mods if anything?
Anyhow, I am happy to get hooked back up with all my co member friends, XLR Enthusiasts on The Site again, and will take some time over the next couple of days to also welcome new members.
Thanks to you all for XLR Excitement and to Rob for keeping this site going for all of us.
Happy Springtime and Summer !
Charles
Last edited: