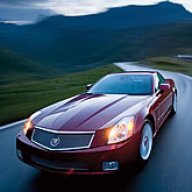 Seasoned Member
Staff member
Site Administrator
Joined

Oct 7, 2006
Messages

5,451
Location
My XLR/V(s)

Not yet!
Talks at GM have workers on edge
Worries over economy, slowing sales increase as rumors swirl around potential Chrysler merger
By JENNA MINK, The Bowling Green Daily News, jmink@bgdailynews.com/783-3246
Thursday, October 30, 2008 11:48 AM CDT
It has been a gloomy month for workers at the General Motors Bowling Green Assembly Plant.
In the wake of nearly 70 layoffs and a production cut this month came the recent announcement that the plant intends to shut down for a week in December to re-evaluate its inventory.
"There's a lot of uncertainty (among workers)," said Andrea Hales, communications director for the Bowling Green plant. "There's some fear of the future, and that's not only with our industry, but with the economy overall."
Now, General Motors is one step closer to merging with Chrysler, another troubled automobile company, after ironing out some major issues surrounding a possible merger, according to news reports.
Still, perhaps the biggest issue - having enough funds to take on Chrysler's assets - has yet to be resolved. General Motors is lobbying the government for about $10 billion to finance the merger, according to reports.
The deal would give General Motors control over Chrysler's equipment, facilities and fixtures, which could benefit the company, but might also leave them with a mess to clean up in Chrysler.
If the two auto giants merge, the Bowling Green plant likely would not be affected, said David Cole, chairman of the Center for Automotive Research.
"Nothing Chrysler builds is anything close to the Corvette," he said.
"I don't know what Chrysler will be able to offer GM that GM doesn't already have as far as vehicle lineup," said Jim Van Dorn, owner of Auto Masters, a Corvette repair shop that sits in front of the General Motors plant. "They have at least a couple of newer assembly plants; they have a very nice headquarters building in Detroit ... those items are the only thing I can think of that GM would be interested in."
Chrysler's Viper is the only vehicle comparable to the Corvette, and, if General Motors acquires Chrysler and cannot sell the Vipers that have already been produced, the line likely will be eliminated, Cole said.
"I think in Bowling Green, the Corvette is a pretty protected market. It's a terrific vehicle," Van Dorn said. "I see it as one of the mainstays. The Viper on the other hand, I don't see that being around very long."
In fact, even if the merger with General Motors falls through, Chrysler will probably not stick around much longer, Cole said.
"I think in all likelihood, Chrysler would go away," he said.
Still, the merger is centered around broad speculation, and it's too early to determine how the deal would affect General Motors in the long run, Cole said.
"It's hard to know until we found out what they're going to do," he said. "Those who really know what's going on aren't talking. We have to wait until things unfold."
Still, talks of mergers, sale plunges and plant closures have resulted in a nervous atmosphere at the Bowling Green plant. The company lost more than $18 billion in the first six months of this year, and its stock value has plunged from around $40 to about $6 in the past year.
As it stands now, the weeklong closure in December will not result in production cuts or layoffs, Hales said.
"With the softer overall market and decrease in Corvette sales, we feel like it's best decision to take out one week of production," she said.
Recent reports say General Motors plans to postpone product development spending for 2009 and 2010 in an effort to save money.
"We have to be prudent," said Tom Wilkinson, a spokesperson for General Motors. "The intention continues to be to emerge from this downturn with a strong product lineup."
And while merger talks are still up in the air, financial woes within the company are a reality.
"It's real because of the cash problem the industry is facing," Cole said, but "it's not something you can speculate too broadly on. We don't know how it's going to unfold."
Meanwhile, officials at the Bowling Green plant are encouraging workers to stay focused on their jobs as they try to weather the industry breakdown.
"We work in an industry that seems to be highly impacted by what's going on (in the economy)," Hales said. "So, we're just staying focused here on building the best cars we can build every day. That's all we can do for our customers."