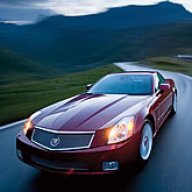 Seasoned Member
Staff member
Site Administrator
Joined

Oct 7, 2006
Messages

5,422
Location
My XLR/V(s)

Not yet!
FOR RELEASE: 2009-07-23
The 2010 Cadillac SRX: Luxury For Less
Oshawa, Ontario (July 23, 2009)
- In synch with the changing priorities of luxury consumers, Cadillac has expanded its model line-up with the all- new 2010 SRX luxury crossover, which is scheduled to begin arriving at Cadillac dealers in August is priced aggressively, starting at $41,575.
The 2010 SRX features two new, smaller-displacement and fuel efficient engine choices paired with six-speed automatic transmissions. Both engines employ advanced technology that helps produce the performance typical of larger engines, but with lower fuel consumption and emissions.
"The new 2010 SRX crossover combines versatility and fuel efficiency with Cadillac's signature design and technical features to create a truly unique offering for Canadian luxury buyers," said Marc Comeau, vice president of sales, service and marketing for GM of Canada. "Priced thousands less than both the 2010 Lexus RX350 and the 2009 Acura MDX on comparably-equipped models, the 2010 SRX sets a new standard of luxury value in this highly competitive segment."
Performance and safety are enhanced by an optional active-on-demand all-wheel-drive system designed to optimize vehicle handling and stability in all driving conditions. The SRX features standard 18-inch wheels or optional 20-inch wheels. The rack-and-pinion steering system is hydraulic and speed-sensitive, with tuning biased for dynamic driving character and strong on-centre feel. StabiliTrak electronic stability control is standard and is part of a comprehensive suite of safety features designed to protect occupants before, during and after a crash.
A direct injected 3.0L V-6 engine comes standard and delivers 265 horsepower. It is a smaller-displacement version of the 3.6L direct injection engine featured in the CTS sport sedan which was named one of the world's 10 Best Engines for 2009 by Ward's Automotive. A 2.8L turbocharged V6 engine is optional in the SRX and will be introduced at the middle of the 2010 model year.
The 2010 SRX features numerous advanced electronic systems. Highlights include a "pop-up" navigation screen with three-dimensional imaging, adaptive forward lighting, power liftgate with programmable height setting, integrated hard disc drive and a dual-screen rear entertainment system. Bluetooth compatibility is standard, as is OnStar with Turn-by-Turn Navigation service for buyers who do not select the navigation system option.
The new SRX was developed to optimize people- and cargo-hauling practicality in a right-sized crossover footprint and the rear compartment includes a Cargo Management System that features a U-Rail track system.
Pricing for the well-equipped SRX ranges through progressively more luxurious trim levels for both the front and all-wheel-drive models as follows:
General Motors of Canada (GMCL) is headquartered in Oshawa Ontario and employs 9,000 people nationwide. GM of Canada manufactures vehicles, vehicle powertrains, and markets the full range of General Motors vehicles and related services through approximately 700 dealerships and retailers across Canada.
[FONT=Arial, Helvetica, sans-serif]
- 30 -
[/FONT]​
[FONT=Arial, Helvetica, sans-serif]
For media enquiries contact:
Tony LaRocca
905-644-1804
tony.larocca@gm.com
[/FONT]
[FONT=Arial, Helvetica, sans-serif]
For media enquiries in Quebec contact:
Robert Page
514-630-6221
Robert.page@gm.com
[/FONT]
[FONT=Arial, Helvetica, sans-serif]
All other (non-media) enquiries:
1-800-463-7483
[/FONT]
CONTACT(S):
Tony LaRocca
905-644-1804
tony.larocca@gm.com