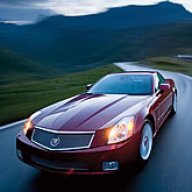 Seasoned Member
Staff member
Site Administrator
Joined

Oct 7, 2006
Messages

5,449
Location
My XLR/V(s)

Not yet!
AUTOMOTIVE NEWS EDITORIAL


The cost of GM's death
Automotive News
November 14, 2008 - 12:28 pm ET
If Congress thinks a bailout of General Motors is expensive, it should consider the cost of a GM failure.
Let's be clear. The alternative to government cash for GM is not a dreamy Chapter 11 filing, a reorganization that puts dealers and the UAW in their place, ensuring future success.
No, even if GM could get debtor-in-possession financing to keep the lights on (which it can't), Chapter 11 means a collapse of sales and a spiral into a Chapter 7 liquidation.
GM's 100,000 American jobs will die. Health care for a million Americans will be lost or at risk. Hundreds of GM's 1,300 suppliers will die. Their collapse could take down Ford Motor Co. and Chrysler LLC, perhaps even North American transplants. Dealers in every county of America will close.
The government will face greater unemployment, more Americans without health insurance and greater pension liabilities.
Criticize Detroit 3 executives all you want. But the issue today is not whether GM should have closed Buick years ago, been tougher with the UAW or supported higher fuel economy standards.
In the next two to four months, GM will run out of cash and turn out the lights. Only government money can prevent that. Every other alternative is fantasy.
The $25 billion in loans that Congress approved to partially fund improvements in fuel economy? Irrelevant. Dead automakers do not invest in technology.
The collapse of the global financial system has crushed the American car market, dried up revenues for the Detroit 3 and highlighted their weaknesses.
Each of the Detroit 3 is in crisis. But Ford, which borrowed big two years ago and thus has more cash today, may skip a bailout and the strings attached. Cerberus, which bought Chrysler last year, doesn't deserve money. Government cash might help sell Chrysler to a strategic owner.
Some Detroit critics want their pound of flesh: Throw the bums out and install a government czar. Treasury Secretary Henry Paulson won't use any of his $700 billion bank bailout money to help manufacturers. In any case, he'd need a guarantee that a bailout would make Detroit "viable."
Well, nobody -- not even AIG -- is insuring guarantees for viability.
The taxpayer needs protection and an upside. GM's top management may need to go. Government-as-shareholder deserves a big voice. Those details can be worked out.
The Detroit 3 CEOs and UAW President Ron Gettelfinger had better tell two critical congressional hearings next week what sacrifices they are prepared to make.
But the stark fact remains: Absent a bailout, GM dies, and with it much of manufacturing in America. Congress needs to do the right thing -- now.