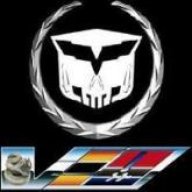 Joined

Jun 3, 2010
Messages

1,079
Location
My XLR/V(s)

2006 Black Raven XLR-V; 1996 Eldorado ESC-V
Being a mod on the CadillacForums give me the opportunity to see and meet a vast array of Cadillac Enthusiasts. One of those is Rush Nash of Rush Repair. Rush has been doing Third Brake Light Repairs/Upgrades for 03-07 Cadillac CTS/CTS-Vs for a few years and when one of the bulbs of mine developed a short, I took it to him for repair. I didn't have to worry about shipping the unit to and from him because he is local to me. He has a 4 day turn-around plus shipping time. We talked for a while prior to the repair and he was very stright forward and honest about never having done an XLR before. He explained the three different methods he uses and told me he'd let me know how it was going in a couple days. Elwood was to be in a Car Show the following weekend and he agreed to have it done in plenty of time. And he did everything he promised.
I have to get me an advanced kit! Are you happy dealing with this guy?
The answer is a resounding YES! But.....
He talked to me after the repair and said he didn't like what he had to do to accomplish the repair and didn't think he'd be adding XLRs to his repertoire. For the CTS, he bakes the lens till the silicone heats up enough for him to separate the lens from the housing. The baking process didn't work for my lens, so he had to meticulously cut the housing to remove the lens, replace the LEDs, then glue the housing and lens back together. The workmanship was outstanding, but as he said to me he lost money in the deal because it was three times the labor of the CTS.
I guess I should have taken pictures of it before and after he got it, but I didn't. I will go out to the garage tomorrow and take pictures of the repaired light in place.
Phrede you are more than welcome to call him and mention my name, but without offering him an "XLR premium" over his base price, I anticipate he'll decline.
Here is his information that I got off his website (see link below):
Rush Repair
ATTN: Rush Nash
1508 Avion Ridge Dr.
Suite 304
Arnold, MO 63010
Hours:
Mon - Fri: 8AM - 5PM (Central Time)
Sat: 10AM - 3PM (Central Time)
Sun: Closed
Email:
rushnash3@yahoo.com
Phone: (314) 471-5717
Rush Repair - RUSH REPAIR: - Arnold, MO
03 04 05 06 07 Cadillac cts Brake Light Rebuild Third Brake Light Repair | eBay
Disclaimer: I am in now way affiliated nor profiting from this person or his business, just a satisfied customer. All information above about this person and his business is readily available on the internet from his own website. My opinions are just that my opinions, your mileage may vary.