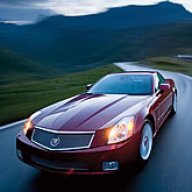 Seasoned Member
Staff member
Site Administrator
Joined

Oct 7, 2006
Messages

5,449
Location
My XLR/V(s)

Not yet!
Wagoner: GM needs federal help before Obama takes office

Jamie LaReau
Automotive News
November 10, 2008 - 4:40 pm ET

DETROIT -- General Motors CEO Rick Wagoner says GM's financial distress is so dire that it must line up financial assistance from Washington before President-elect Barack Obama takes office in January.

"This is an issue that needs to be addressed urgently," Wagoner said during an exclusive interview today with Automotive News. Now is the time to "overshoot, not undershoot" when it comes to assistance for the auto industry, he added.

In return for financial aid, General Motors is willing to offer the government preferred stock, set limits on executive compensation and speed the introduction of fuel-efficient vehicles.

But Wagoner said he is not prepared to resign in return for government aid. "I don't think it'd be a very smart move," he said. "I think our job is to make sure we have the best management team to run GM. It's not clear to me what purpose would be served. …"

Wagoner conducted his interview three days after GM posted its fifth straight quarterly loss and said it may run out of cash within a few months.

GM reported that it had burned $6.9 billion in cash during the third quarter, dropping its cash reserves to $16.2 billion. To stay in business, the company must maintain reserves of $11 billion to $14 billion.

Wagoner said the company's cash burn in the fourth quarter will ease to $1 billion a month. "We expect our fourth-quarter cash burn -- even with a very weak industry -- to be more like the first two quarters," he said.

Wagoner declined to say how much money GM needs from Washington. But he said GM's turnaround plan assumes industry sales of 11.7 million new cars and trucks next year.

"I'd say the funding request that's gone into Washington would cover us under that scenario," Wagoner said.

Without government assistance, the automaker will not survive if industry sales stay mired at 11 million units, Wagoner said. "I'd question whether the U.S. industry as a whole could survive that without support," he noted.

Even with government aid, Wagoner said, GM will have to do "significantly more restructuring" if industry sales stay this low. But if annual industry sales return to 15 million units in a few years, Wagoner said, "We'd be doing pretty good."