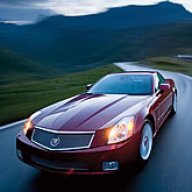 Seasoned Member
Staff member
Site Administrator
Joined

Oct 7, 2006
Messages

5,449
Location
My XLR/V(s)

Not yet!
Wagoner: GM will assess need for additional bailout funds

NADA will push for tax writeoffs on auto loan interest

Richard Truett
Automotive News
January 14, 2009 - 12:01 am ET

DETROIT -- General Motors CEO Rick Wagoner says the company won't know how much more in government loans it will need until March 31.

Wagoner, speaking on a radio show Tuesday night, said GM has enough money to fund its business operations through the first quarter.

"At that point, we'll be in a better position to asses the industry." Wagoner would not give a range of how much more GM will need. "I've seen a lot of different figures," he said.

GM has qualified for $13.3 billion U.S. Treasury loans under the $700 billion Troubled Assets Relief Program. Of that, GM has received $4 billion so far. The automaker must submit a plan to show its future viability by March 31.

There has been considerable debate in Congress and in the news media about whether GM would need additional help to stay afloat. GMAC LLC, GM's affiliated lender, has also received $6 billion in government assistance.

Wagoner appeared on a national call-in radio show broadcast from WJR-AM in Detroit along with Ford Motor Co. CEO Alan Mulally, Chrysler CEO Robert Nardelli, UAW President Ron Gettelfinger and National Automobile Dealers Association Chairwoman Annette Sykora. The panel fielded questions via calls and e-mails.

Wagoner acknowledged that GM will get smaller in terms of models and brands, but he didn't provide specifics.

"Fewer and better, we think, is the best thing we can do for consumer and our business," he said.

Nardelli said Chrysler hopes to get another $3 billion in March when it presents its viability plan to Congress. Chrysler asked for $7 billion in loan guarantees, but got only $4 billion. Nardelli said Chrysler plans to convince consumers that it will be around by following through with its product launches and by building high-quality vehicles.

Nardelli didn't name any vehicles, but said Chrysler is ready to launch a product offensive.

"We have 24 reveals and rollouts over the next 48 months," he said. Nardelli disputed claims of poor quality saying that Chrysler's warranty costs are the lowest in company history and that Chrysler had the lowest recall rate in the industry last year.

Mulally said Ford can win customers back by focusing on technology and improving the internal combustion engine. He touted Ford's upcoming launch of its EcoBoost turbocharged direct injection engines which improve both performance and fuel mileage while reducing emissions.

Wagoner acknowledged that GM has to do a better job of getting its message to consumers that it no longer builds ugly, unreliable vehicles that consumers don't want. Wagoner cited the redesigned Chevrolet Malibu, which booked a 40 percent sales increase in 2008 as proof that Americans will buy an American car if it delivers high quality, high fuel economy and good value.

"That gives our engineers and designers a good target," he said of the Malibu. Wagoner said GM will not be shy about talking about building vehicles that offer the best design and quality. "It's our job to get the message out. And we will," he said.

Sykora said the NADA is working to get a bill passed that would enable consumers to write off the interest on car loans. She said it could be part of the Obama administration's economic stimulus package.

Said Sykora: "Credit is the lifeblood of our industry."