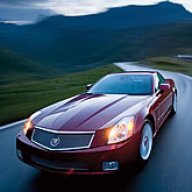 Seasoned Member
Staff member
Site Administrator
Joined

Oct 7, 2006
Messages

5,449
Location
My XLR/V(s)

Not yet!
Workers at GM talk of troubles
'Uncertainty' welcomes workers back

By JENNA MINK, The Daily News, jmink@bgdailynews.com/783-3246
Monday, October 13, 2008 11:44 AM CDT
It was a sunny morning as workers returned to the General Motors Bowling Green Assembly Plant after a week-long hiatus today, but a cloud hung in the air.
"It's not a feeling of hopelessness, but a feeling of uncertainty," said Byron Crotts, a benefits representative with GM in Bowling Green. "We don't know what's going to happen at Corvette ... It's a total fiasco."
Production cuts closed the plant last week. Employees are returning in the midst of reports that the struggling company may further cut production, slash jobs and close plants to stay alive.
"GM has been on a spiral, mostly downward," said Jim Van Dorn, owner of Auto Masters repair shop, which specializes in Corvette repair at its location across from the assembly plant. "(The workers) are very, very nervous. I think anyone in corporate America would be foolish if they were not concerned about their jobs and their product."
As GM stock tumbled last week to its lowest value in 58 years, it was reported the company might close more plants and cut production further nationwide. The cuts would affect engine, transmission and stamping plants and would accelerate plant closings announced in June.
Eldon Renaud, UAW Local 2164 president, said he does not think those possible cuts will affect the Bowling Green plant.
"Everything is tentative, and we haven't been told about further production cuts," he said.
The Bowling Green plant, which produces the Corvette and Cadillac XLR, cut production last week from 18.5 to 15 vehicles an hour and will lay off about 70 employees. Plant manager Paul Graham said those layoffs will go into effect in the next few weeks.
"Some are concerned that they won't be coming back to work," Renaud said. "General Motors is selling at $4 and Ford is selling at $2; in the last 50 years this has not happened, so why would anybody think there are good prospects?"
GM's stock shares collapsed Thursday by 31 percent. Its value closed at $4.89 Friday. On the same day last year, the company stock closed at $38.13.
"The employees are as cautious as anyone else in corporate America and watching the recent (stock) slides and the recent corporate catastrophe," Van Dorn said.
GM is discussing a possible merger with Chrysler, an automotive company that has its share of troubles, according to reports.
A Chrysler acquisition could help GM because it would give the company extra production equipment and property at a reduced price, Van Dorn said.
"On the other hand, (Daimler, the Mercedes-Benz maker) bought (Chrysler) and let them go," he said.
Reports say GM previously discussed a merger with Ford, which closed Friday at $1.99 per share. Ford rejected the possible deal, reports said.
J.D. Power and Associates, a marketing information firm, does not expect the automobile retail market to pick up anytime soon. The firm predicts auto retailers will end the year with 10.8 million sold vehicles - that's about 2 million fewer than last year's sales, according to a news release.
As the automobile market continues to deteriorate, Renaud said he is encouraging workers to keep their minds on their jobs.
"I just tell them all we're going to do while we're building cars is build the best cars that we can," he said. "All we can do is build cars that somebody wants … we can't change the economy."
And Renaud said he believes there is a light at the end of the tunnel.
"I have to believe that in order to keep going every day," he said.