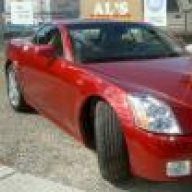 Joined

Oct 17, 2008
Messages

3,648
Location
My XLR/V(s)

2007 Red Jewel XLR
This young gunslinger walks into a bar and sits down for a drink after practicing his quick draw; he hopes to be the "fastest gun in the west" someday. He looks down the bar and sees an old man sitting there and recognizes him as being on of the "fastest guns in the west". He walks down to him and strikes up a conversation. In the midst of their conversation, he young man mentions that he would like to be the fastest gun in the west and if the old man could offer him a few tips.
The gentlemen says, "Sure, first your holster should be lower on your hip." The young man slips the holster down a couple inches and "BANG", shoots the bow tie off the piano player. He thinks, "WOW, I've never been able to shoot like that before."
The old gentlemen then says, "If you notch your holster where the hammer is, you'd be able to pull it back before you even clear the holster." The young gunslinger does so and, "BANG", shoots the cufflink off the piano players shirt. He says to himself, "Man, am I glad I asked for some pointers... never have I been able to shoot this fast AND this accurate. Do you have any other pointers for me?"
"Just one more," the gentleman says. "See that bucket beside the piano player?"
"Yes."
The gentleman continues, "It's full of grease... go over and slather your gun all over the outside."
The young gunslinger heads over and puts some on the barrel and walks back to the bar.
The old guy says to him, "No, I mean ALL over the gun... and use LOTS of grease."
The young man says, "What will that do to help my quick draw?"
"It won't," says the old man, "but when Wyatt Earp gets done playing the piano, I'm pretty sure he's going to shove is up your a**. Won't hurt so bad with the grease..."