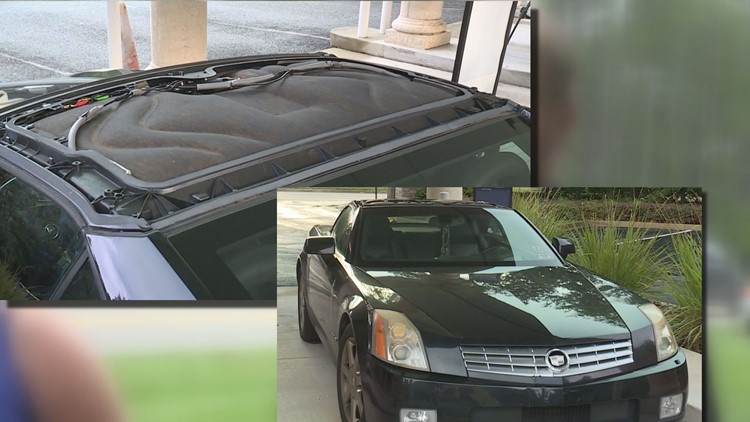 On June 3rd, a 2005 Cadillac XLR owner was driving down a back road in First Coast, Florida, when suddenly, the roof panel flew off her XLR.
Francesca Giannini, the XLR's owner, bought her 2005 Cadillac XLR new and never showed any structural issues during routine maintenance checks.
A witness who was driving behind Giannini, said the roof panel went airborne and narrowly missed other cars, flying off to the right and coming to rest flat on the grass.
Witnesses in one of the cars behind Giannini said the airborne roof narrowly missed other cars.
This isn't the first time we've heard of this issue with the Cadillac XLR.
One of our forum members, nicholas.brady had the same thing happen to his 2005 Cadillac XLR.   He writes:
"I'm posting this because after a long search online, I found nobody who had this issue, despite the Cadillac dealer telling me that this is a "common" problem.
This is my 05 XLR, it started to get some wind noise and I figured a seal had started to wear. Dealer looked at it and said the same and recommended a silicon product for the roof seal.
Then while driving down the highway at around 70mph, the roof panel flew off the car. Thankfully it didn't hit anyone or cause an accident.
So, make sure you get your wind noise checked. Apparently this was an issue with Corvettes around that time, but I've seen nothing on the XLR. "
The 2005 – 2007 Corvette had a similar issue with roof delamination and as a result, GM issued a recall notice for those models as outlined below:
---
Report Date : December 28, 2009 at 06:58 PM
NHTSA Campaign ID number : 09V491000
Vehicle Make / Model: Model Year(s):
CHEVROLET / CORVETTE 2005-2007
CHEVROLET / CORVETTE Z06 2005-2006
Manufacturer: GENERAL MOTORS CORP. Mfr's Report Date: DEC 18, 2009
NHTSA CAMPAIGN ID Number: 09V491000
Component: STRUCTURE:BODY:ROOF AND PILLARS
Potential Number of Units Affected: 22090
Summary:
GENERAL MOTORS IS RECALLING CERTAIN MODEL YEAR 2005 THROUGH 2007 CORVETTE AND MODEL YEAR 2006-2007 CORVETTE Z06 EQUIPPED WITH A REMOVABLE ROOF. THE ADHESIVE BETWEEN THE ROOF PANEL AND THE FRAME MAY SEPARATE.
IF THERE IS A PARTIAL SEPARATION, THE DRIVER MAY NOTICE ONE OR MORE SYMPTOMS, SUCH AS A SNAPPING NOISE WHEN DRIVING OVER BUMPS, WIND NOISE, POOR ROOF PANEL FIT, ROOF PANEL MOVEMENT/BOUNCE WHEN A DOOR OR HATCH IS CLOSED, OR A WATER LEAK IN THE HEADLINER.
Consequence:
IF THERE IS A COMPLETE SEPARATION, THE ROOF PANEL MAY DETACH FROM THE VEHICLE. IF THIS WERE TO OCCUR WHILE THE VEHICLE WAS BEING DRIVEN, IT COULD STRIKE A FOLLOWING VEHICLE AND CAUSE INJURY AND/OR PROPERTY DAMAGE.
Remedy:
DEALERS WILL INSTALL A NEW DESIGN ROOF PANEL FREE OF CHARGE. THE SAFETY RECALL IS EXPECTED TO BEGIN DURING JANUARY 2010. OWNERS MAY CONTACT CHEVROLET AT 1-800-630-2438
---
Since the 2005 – 2009 Cadillac XLR was built off of the C6 Corvette chassis and on a separate line at the same assembly plant as the Corvette, it's quite possible that the same adhesive used to bond the roof panels together on the C6 Corvette was also used on the Cadillac XLR.
To view the entire thread and comments in the forums, visit:  Roof panel detached while driving
Are any other Cadillac XLR owners having this issue?