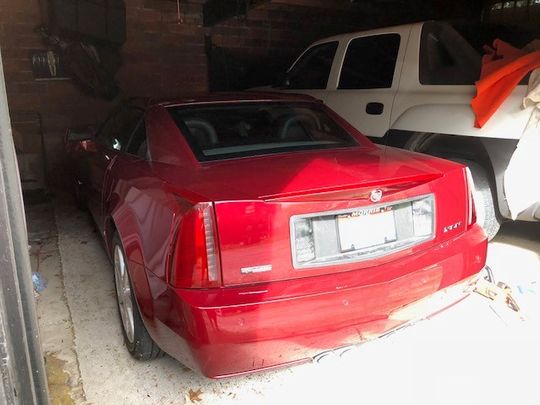 Cadillac XLR Owner Gets Trapped in Car After Key FOB Battery Fails
Peter Pyros of Cleveland, Ohio decided to take his rarely driven 2006 Cadillac XLR for a short drive to prep it before winter set in.
Unfortunately, when Pyros got in the car, and shut the door, the door locked, but the key fob battery was dead and wouldn't unlock the door.
For nearly 14 hours, Pyros struggled to stay alive in the car in the 70 degree plus weather, passing out a couple times, but coming to only to continue struggling to get out of the car.
Punching and kicking the windows out didn't work.  Luckily, a next door neighbor heard him pounding on the car, jumped the fence and called 911.  The emergency personnel tried several times to open the doors, but failed.  They finally popped the hood and jumped the car, thus freeing Pyros from his prison.
"It was the most horrifying experience you can imagine," he said Monday in a phone interview with The Washington Post. "I accepted, at some point, that this is how I'm going to die."
GM issued a statement Monday stating that "any vehicle or key fob can lose power" and "that risk can increase as the vehicle ages."
"Manufacturers provide a way to manually unlock the doors if the vehicle or fob loses power," it said. "Because this varies by make and model, drivers should review the Door Lock section of their owner's manual so they will know what to do."
"In the case of the XLR, there is a door release handle located on the floor, next to each seat."
Pyros said that he wasn't aware there was an emergency release lever on the floor, and even if he had read the owner's manual, it was too steamy in the car from the heat and moisture from his screaming inside.
I agree with General Motors 100% on this issue.
When you buy a new or used automobile, it is your responsibility to obtain and read the owners manual prior to operation of the vehicle.  It's relatively common knowledge that the Corvette, and the Cadillac XLR, which is based off of the C6 Corvette platform, are highly technological vehicles.
Unfortunately, this same situation happened a while ago when the owner of a C6 Corvette, got locked in his car and ended up dying inside due to excessive heat exposure.  Again, the owner of the Corvette failed to read his owner's manual.
Related:  Family Sues General Motors for Father's Death Due to Corvette Door Locks