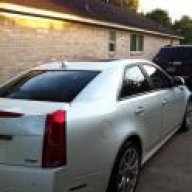 Joined

Apr 26, 2013
Messages

11
Location
My XLR/V(s)

2008 Light Platinum
I searched but found nothing applicable to trouble at hand.

Generally I can chill a six pack in the front seat, but the air is not acting right today.

The passenger side dash vents are at least 10 degrees cooler than driver's side.

Even so, the passenger side is not as cold as usual.

Since one side is working better, I am thinking the "blend doors" or whatever they are called are not working properly.

Is there a known fix for this? We are having some hot days in Texas and any help is appreciated!