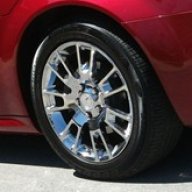 Joined

Apr 18, 2011
Messages

1,088
My XLR/V(s)

2009 XLR Crystal Red Metalic
I am posting this for a friend and forum member Greg aka: Tikiman100, as he has been having trouble posting here. I am hoping his loss will benefit some forum members looking for parts etc.
On Friday March 27 Greg he went out on a errand in his 2007 XLR-V and had a horrible encounter with gas station 'manhole lid' for the underground tanks. The lid stuck up just enough: combined with the fact that the sourrouding concrete was domed - that it caught the underside of the car, ripping off a chunk of the 'transmission housing/torque tunnel?' (don't know what to call that) including the shift cable housing so the car would not go in and out of gear. He wasn't driving crazy fast and said it sounded like a bomb went off, pretty much stopped him dead in his tracks - and that was the end of his XLR V and 'nice day'!
Fast forward, the car was written off by the insurance company as they can not find the parts anywhere to repair it, he got a pay out and the car is in the hands of a Salvage/Auction company in Orlando.
The car is a 2007 V, red with cashmere interior with 106,000 miles. Until the accident: everything worked on the car as is should. If anyone is looking for parts or if you possibly have parts to fix it - maybe you'll get the whole car!
Don't have the name of the salvage company but their phone number is 407-438-7101 and the car is stock #27542681
Good luck!
​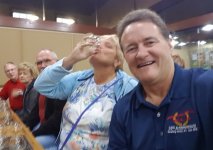 Greg: a much happier time at 15th Anniversary Home Coming - at The Makers Mark Distillery with 'me' sampling beside him!