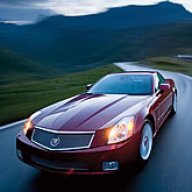 Seasoned Member
Staff member
Site Administrator
Joined

Oct 7, 2006
Messages

5,451
Location
My XLR/V(s)

Not yet!
GM temporarily idles 2 plants on slow demand
The Associated Press October 27, 2008
General Motors Corp. will temporarily close two factories for one week each in the coming months to keep inventory in line with lower demand, the company said Monday.
Spokesman Tony Sapienza said the Detroit-Hamtramck Assembly Plant will be idled for one week starting Nov. 24. The factory employs 1,785 people and makes the Buick Lucerne and Cadillac DTS sedans.
A factory in Bowling Green, Ky., that makes Chevrolet Corvettes and the Cadillac XLR sports cars will be idled the week of Dec. 1. The plant employs about 900 workers. GM previously said that the Cadillac assembly line will be shut down that week.
Lucerne and DTS sales are each down 32 percent through the first nine months of the year.
Cadillac XLR sales are off 26 percent and Corvette sales are off 9 percent.
The plants are scheduled to reopen after the one-week shutdowns.
GM has made announcements cutting more than 4,300 factory jobs in the past two weeks due to the shrinking U.S. auto market.
It also extended the temporary shutdown of its Wilmington, Del., assembly plant for three more weeks because of slow demand for the vehicles it makes. The factory's 1,500 workers make the Saturn Sky, Pontiac Solstice and Opel GT two-seat roadsters. The plant will be idled starting this week and reopen the first week of December.
GM said earlier this month that it will cut the plant's second shift starting Dec. 8, indefinitely laying off 400 workers.
In addition to cutting the second shift at Wilmington, GM announced earlier this month that about 700 workers at its pickup truck plant in Pontiac will be furloughed starting Feb. 1, and another 500 at the Detroit-Hamtramck sedan factory will be laid off starting Jan. 12.
The automaker also announced it would shutter its metal parts stamping factory near Grand Rapids by the end of 2009, costing 1,520 jobs. It also sped up the end of SUV production at its Janesville, Wis., plant to Dec. 23, eliminating another 1,200 positions.
In morning trading GM shares fell 42 cents, or 7.1 percent, to $5.53.