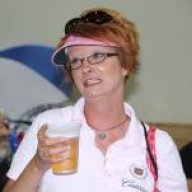 Joined

Oct 17, 2008
Messages

2,588
Location
My XLR/V(s)

Cubby's, RIII Attendee, Midwest Marauder Alcohol Czar
It is official Chrysler filed for bankruptcy protection today. Reading the news article you will all be happy to know for the 4 billion the government has given Chrysler in loans, the government will now be giving them another 8 billion to carry them through bankruptcy. Under the deal the government will back its auto warranties. The UAW will now own 55 percent , government will own 8 percent, and the Canadian and Ontario governmetns will own 2 percent. Obama administration is hoping Fiat can jump start Chrysler with its fuel-efficient and lower emission technology.
The above is bits from an article with the AP. I justed wanted everyone to know, now the tax payers own a piece of Chrysler. This bothers me because we are going to get these little fuel efficient cars shoved down our throats. My .02 I wish the government had not gotten involved with the automotive industry. In my opinion the government never planned on approving any kind of plan GM or Chrysler would have come up with. GM has until June 1st, watch they will be the next to file for protection. The government is getting exactly what they want.


Maybe I'm the only one who feels this way. But once again the American tax payer is going to be told what is best for us. The little clown cars. Hold on to your gas guzzlers who knows if we will ever be able to get them again. Sorry for the rant. Can't believe how this is all going down on all sides.