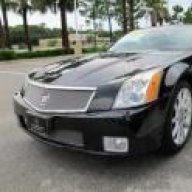 Joined

Oct 16, 2008
Messages

533
Location
My XLR/V(s)

2008 Black XLR-V
2008 Chevrolet Corvette Z06 vs. 2008 Ford Shelby GT500KR
FIND OUT WHO WINS, ZO6 OR GT500KR:
http://www.edmunds.com/insideline/do/Drives/Comparos/articleId=131034
We're looking at the 2008 Ford Shelby GT500KR and 2008 Chevrolet Corvette Z06, but we're imagining a '68 Shelby GT500KR staging next to a Corvette with one of the 427-cubic-inch V8s on the Connecting Highway in Queens, New York, probably sometime during the Nixon administration. We don't know how the cars are tuned or which driver has the better hole-shot technique, but we're calling our street race in favor of the Vette.
You see, there's no historical basis for a close Corvette-Mustang rivalry. A Corvette of any year is a little too fast and smart to be street racing ratty muscle cars. It's a real sports car, the kind of car that's still fun when you start going around corners.
But maybe it's a different story with this 2008 Ford Shelby GT500KR and 2008 Chevrolet Corvette Z06. Each of these rear-wheel-drive coupes has a V8 rated for more than 500 horsepower at the flywheel. And with the release of the limited-edition 2008 Ford Shelby GT500KR, Ford has moved in on Chevrolet's price territory. The GT500KR leaves the Ford factory as a $46,730 GT500 coupe and is shipped as a rolling chassis to Carroll Shelby's facility near the Las Vegas Motor Speedway in Nevada. By the time the KR cruises out of Shelby's shop, it's an $82,395 Mustang.
As such, the King-of-the-Road Mustang must now contend with this $76,920 2008 Chevrolet Corvette Z06. And though the Z06 is a few horsepower shy of the upcoming ZR1, it's not an easy mark. The GT500KR will have to play like a sports car just to keep up.