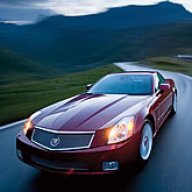 Seasoned Member
Staff member
Site Administrator
Joined

Oct 7, 2006
Messages

5,449
Location
My XLR/V(s)

Not yet!
Automaker's perspective
A variety of factors are to blame for car companies' problems

By ELDON RENAUD
Wednesday, November 19, 2008 11:32 AM CST
GM employees, both hourly and salary, have worked hard to build world-class cars. The community and surrounding regions have grown immensely since GM made the decision to locate in Bowling Green. The Corvette plant has been a source of pride for the Kentuckians and thousands of jobs have been created both directly and indirectly in Kentucky.
Automakers didn't cause this depressed economy, they are victims. The culprits were unregulated credit markets, mortgage failures, lack of national government support for the economy, gouging gas prices. Lack of consumer confidence brought the automakers to their knees. The stalled economy and skyrocketing gas prices caught everyone off guard and we have all suffered.
The automakers build vehicles according to consumer demands. American drivers wanted big, comfortable, well-equipped vehicles with ample head/leg room and powerful motors. They built cars, SUVs and trucks that could carry more passengers and heavier loads. Larger vehicles have heavier steel frames and offer greater safety in collisions. Because they weigh more, they get fewer miles per gallon than smaller cars.
GM should not be vilified because they have been responsible employers providing good wages, decent medical, vision, dental care and well-deserved pensions. GM jobs have provided a huge tax base which has improved every aspect of our community. If the industry goes bankrupt, more than 3 million men and women will be out of work. For every job building cars, there are 10 jobs supporting it.
Our work force is second to none. When asked how many people work in the auto industry, my response is "All of them!" Every job has been time studied for every operator motion to improve productivity. Because the automobile industry is so competitive, we raise the bar every day. We accepted concessions on wages and health care to remain competitive.
Our workmanship and the dependability of our cars have never been better. The productivity of our plants is recognized throughout the world and our products are competitive in every category. One year ago, GM VP of quality Jamie Hresko said, "When you operate the way we operate in Bowling Green and produce the level of quality in a high-performance vehicle (Corvette and Cadillac XLR) … it says a lot about the people who make it, who really deserve the credit."
The productivity of American workers is the highest of any industrialized country in the world. During WWII, our country depended on a strong manufacturing sector to retool and build artillery and tanks to win the war. Our country depended on GM, Ford and Chrysler.
We are proud to live and work here and generously support our community. We are asking for community support as we retool to build the next generation of American cars/trucks. We are asking for your prayers as our industry navigates unchartered waters.
— Editor's note: Eldon J. Renaud is president of Bowling Green's UAW Local 2164.