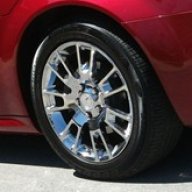 Joined

Apr 18, 2011
Messages

1,085
My XLR/V(s)

2009 XLR Crystal Red Metalic
Decided today to sell my XLR. Came on this forum to check pricing, want ad's etc. Of course now I am having serious doubts about selling it: need some help here friends! If you have seen my car in the past, it is just as nice still!

We have too many cars and we made a list of them (9 classics plus our daily drivers, my X and a pair of Harleys) and started to go down the list....gotta keep,... could sell, should sell etc. I have often said I should consider selling the XLR, dont drive it enough, drive many of the classics etc but the reality is I do put on more miles on the X every summer than many of the classics.

Yes, we are selling classics: sold the 65 Malibu wagon a few months back (traded for a 63 Olds F85 wagon plus cash to a guy in Virginia) Have the 61 Olds wagon for sale (resto mod, LQ9, 4L65E trans, Lokar floor shift, disc brakes, $58,500. usd), my 63 C10 pickup (I've had 15 years, 3 on the tree, 230c straight 6, original paint, excellent cond) $27,5 USD, Steve is selling his 76 Camaro 383 stroker 4 speed custom.....

Actually, the XLR is the newest vehicle we own. My daily driver is a pristine 99 Suburban; lowered, wheels, exhaust etc, Steve's is an bright red 06 single cab short box Silverado; lowered, wheels exhaust etc....lol.

Oh, decisions, decisions, decisions.........